Lyndonville's Class of 1979 holds 40th reunion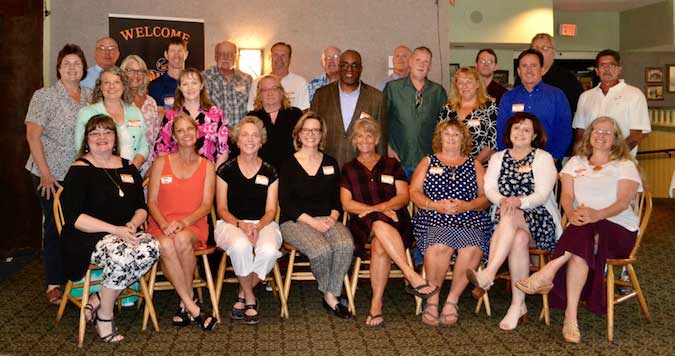 Provided photo
ALBION – The Lyndonville Central School Class of 1979 held their 40th Class Reunion on Friday, July 5, with many of the graduating class attending. It was held at Tillman's Village Inn in Albion.
The evening was emceed by Student Council President Michael Polite. Speakers for the evening included Dawn (Dix) Fraser, Class of 1979 president, and Salutatorian Brenda (Woodworth) Lindsay.
The re-crowning of Homecoming King Larry Bakeman and Queen Dawn (Dix) Fraser was complete with crown and tiara.  Guests from out of town came from Texas, Colorado, Pennsylvania, Tennessee and Virginia. Many of the class members still remain in Orleans County or surrounding areas of the state.  The next reunion is scheduled in five years for 2024.
Pictured, from left, in front row, include: Brenda (Woodworth) Lindsay, Kathy Kage, Cathy (Whipple) LaBrecque, Dolores (Petrie) Armbrust, Renee (Eddy) Broadwell, Judy (Eddy) Preedom, Tammy (Foss) Toma and Ann (Barry) Kay.
Standing: Dawn (Bale) Marciszewski, Dawn (Dix) Fraser, Tim Feldman, Marcia (Eberle) Merritt, Bruce Sentiff, Pam Turner, Steve Fraser, Candy (Osborne) Jones, Kenny Knight, Delbert Young, Mike Polite, Larry Bakeman, Alfred (Buddy) Bickle, Jackie (Dennis) Petrie, Jim Robinson, Steve Wilklow, Dave Hydock and Dan Rutherford.