Lyndonville students will perform Shakespeare this evening
District, with backing from Lyndonville Area Foundation, partners with 'Shake on the Lake'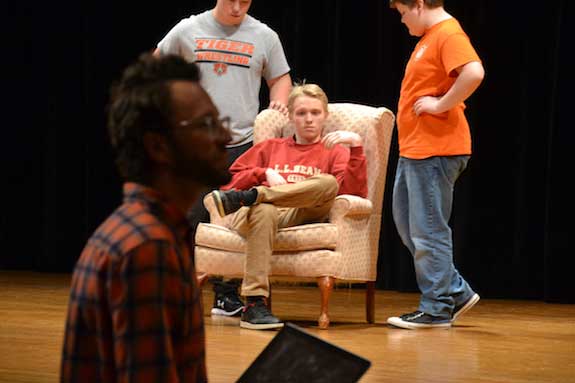 Photos by Tom Rivers
LYNDONVILLE – Leif Isaacson, sitting in chair, plays one of the narrators in Lyndonville's production of Shakespeare. He is shown during a rehearsal on Thursday. The show is 7 p.m. today in Stroyan Auditorium at Lyndonville Central School. The performance will be about a half hour and is free to the community.
Josh Rice, foreground, is director of the production. He is the co-founder of Shake on the Lake, which is based in Wyoming County. That group has a mission of bringing Shakespeare to rural areas.
The Lyndonville Area Foundation is covering the cost to have Rice work with nine Lyndonville students the past two weeks on the production.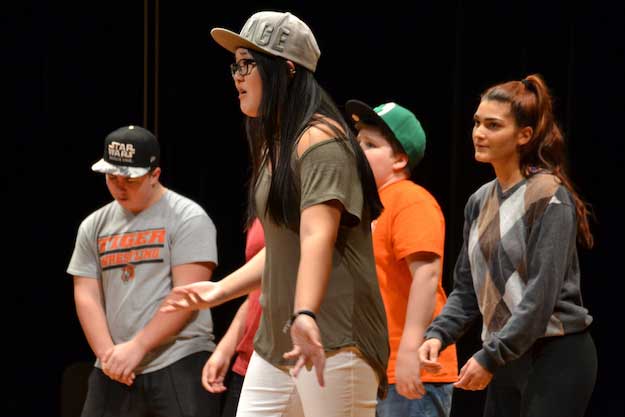 Alissa Klinetub joins the cast in singing "Othello," a song about a Shakespearian character. The Lyndonville students have followed a loose script and improvised in making it their own show.
"It's very organic," Leif Isaacson said about the process.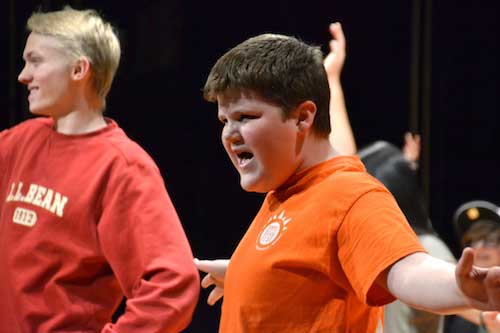 Brian Cunningham, an eighth-grader, also is one of the narrators. He welcomed the chance to work on his theater skills the past two weeks.
"The more you're on stage, the better," he said.
Jennifer Trupo, the school's drama program director, also appreciated having Rice work with the students.
"I'm always open to opportunities for the students, especially with someone who is a professional," she said.
Shake on the Lake performs Shakespeare in Western New York. The group already is lined up to perform in eight WNY counties this summer. They will be performing in Orleans County on Aug. 8 at the Yates Community Library and Aug. 9 at the Orleans County Marine Park. The Lyndonville students will have the opportunity to do the "pre-show" for those performances.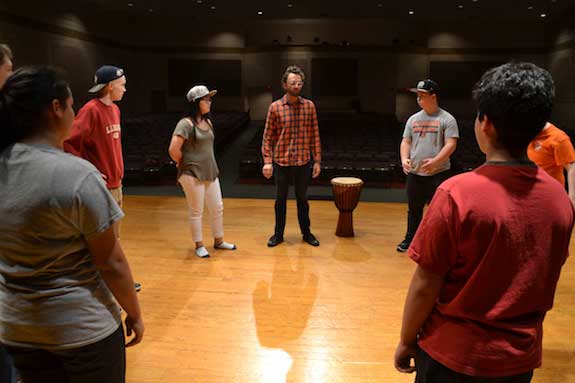 Josh Rice, center, leads the students in some warmup exercises at the beginning of rehearsal on Thursday.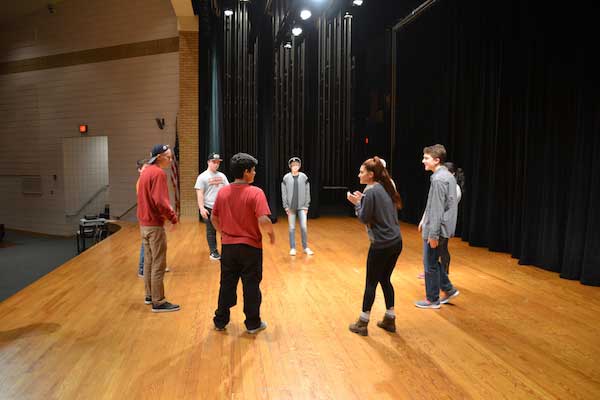 The students play a popular theater game, Splat, which includes frequent improvisations. The students performing Shakespeare this evening include Brian Cunningham, Hayden Arlington, Adia Wachob, Alissa Klinetub, Tamara Huzair, Sawyer Wilson, Salma Huzair, Qasim Huzair and Leif Isaacson.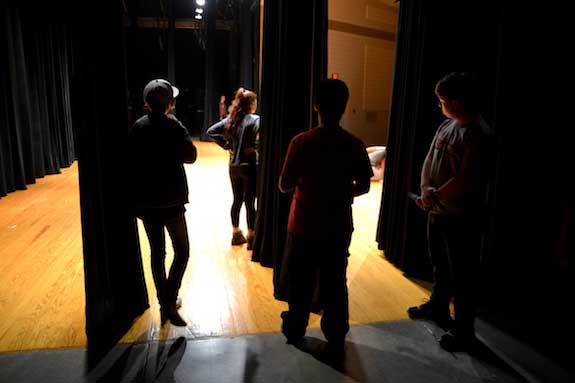 These students wait for their cue to take the stage.
For more on Shake on the Lake, click here.