Lyndonville students and artist create mural of kindness

Press release and photos from Lyndonville Central School
LYNDONVILLE – The school district recently unveiled a collaborative mural of children's artwork that was captured and reimagined by Boston-based artist, Bren Bataclan.
Bataclan's murals are special because he incorporates students' ideas and characters in the compositions. With the help of 20 adults and a dozen high school students, Lyndonville's vivid mural was brought to life in the hallway near the elementary library. This was the ideal placement as the theme incorporates literacy and reading with kindness, respect, social-emotional learning and a growth mindset.
Mrs. Strusienski's fifth and sixth grade students learned about Bataclan after reading a book about the artist and how he spreads kindness by giving away his artwork. The students visited his website (bataclan.com) to learn more about the artist and his projects.
They watched his TEDTalk and then followed a "how-to" video for drawing one of his characters. Inspired by what they learned, they emailed the author, and he replied. After many emails, phone calls and Google Meets, the project was initiated.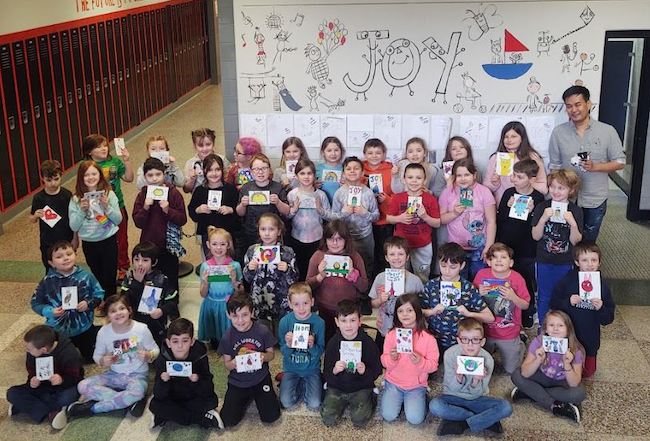 Bataclan (back right in photo) visited Lyndonville in early March to collaborate with kindergarten through sixth-grade students during assemblies and workshops and, with help from many in the district, paint the colorful mural that incorporates the students' artwork.
"This is a fantastic opportunity to share a real-world connection with our students," said Elementary Principal Dr. Elissa Smith. "Our students love seeing their characters incorporated into the mural and are proud to be a part of this incredible project."
Inspired by the mural, second grade students painted canvases to give to local nursing homes and a floor at Medina Memorial Hospital. These young students wanted to pass on Bataclan's message of kindness and to bring a smile to others.
"If you have not taken a trip down to the Elementary Library hallway to view this delightful mural, please do so," said school nurse Mary Bateson-Kurz. "It will lighten your soul with its joyful characters and message of love!"
To learn more about this project and see the mural reveal, click here to see a video.