Lyndonville parade celebrates Red, White and Blue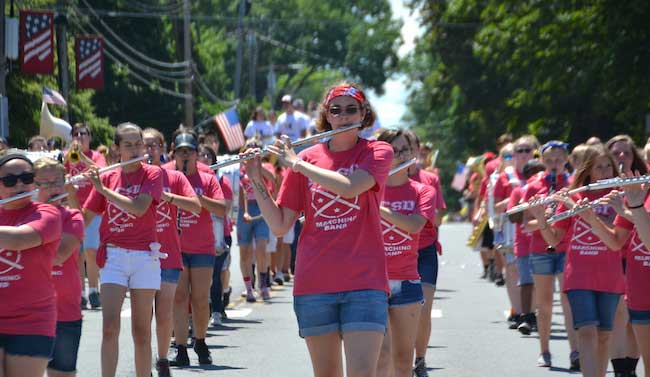 Photos by Tom Rivers
LYNDONVILLE – Members of the Lyndonville Central School marching band perform on main Street during the annual Fourth of July Parade in Lyndonville.
The parade featured many patriotic floats from community organizations.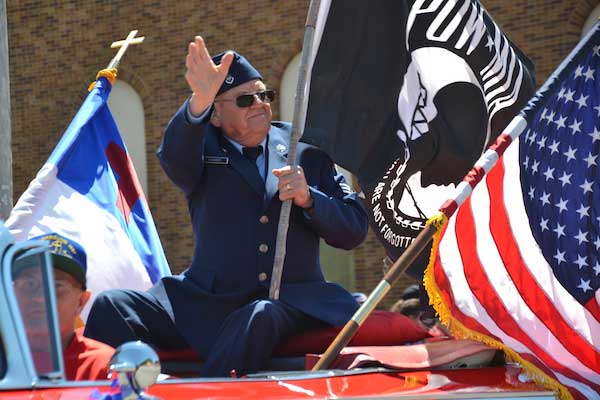 Stanley Thurber, clutching a POW/MIA flag, rode in a 1960 Impala owned by Cecil Livingston of Medina.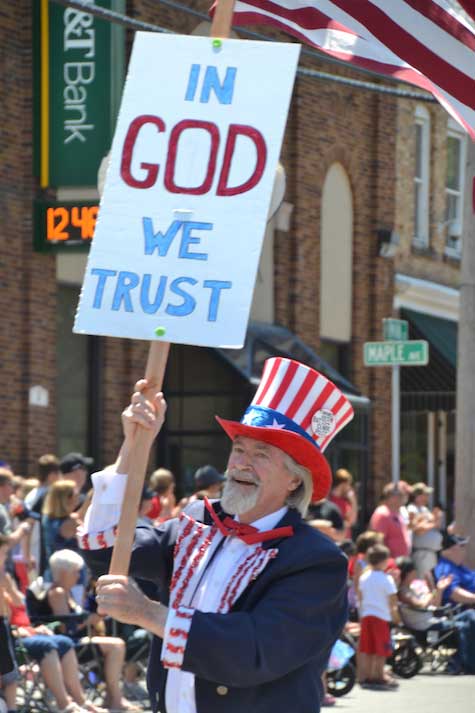 Randall Bane dressed as Uncle Sam while carrying a message, "In God We Trust." The button on his hat thanks veterans in the Butts-Clark American Legion Post for their service.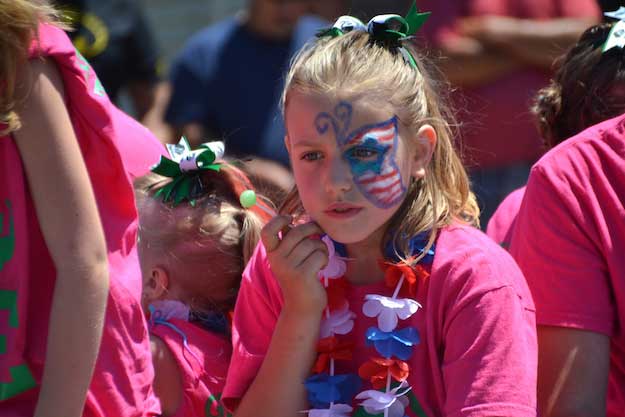 A local Girl Scout has her face decorated for Independence Day. She is on a float with other Girl Scouts.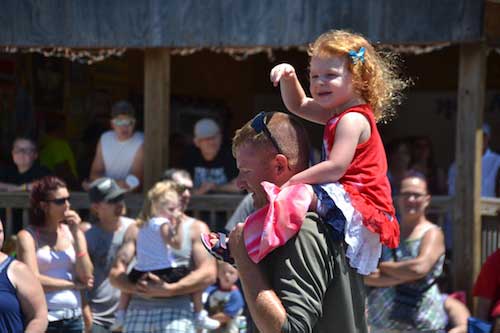 Jake Stinson carries his daughter Amber in the parade. Stinson was in the parade promoting his business, Turf Pro.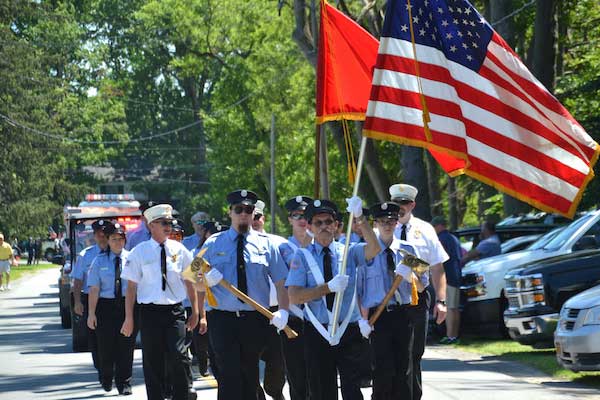 The Lyndonville Fire Department marches down Maple Avenue near the beginning of the parade route.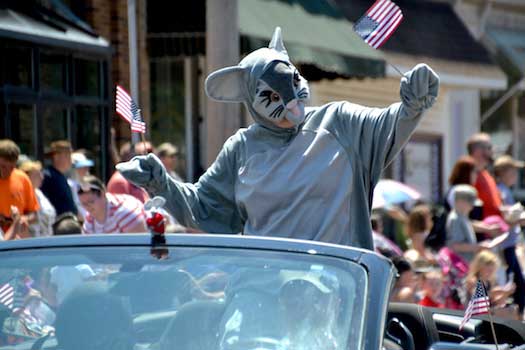 Cobble the Mouse from the Cobblestone Museum waves flags to the crowd along Main Street.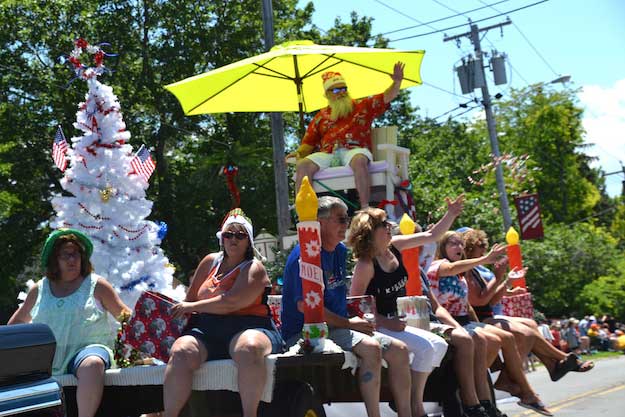 The Lyndonville Class of 1982 had a Christmas themed float. They tossed a generous supply of candy to kids along the parade route.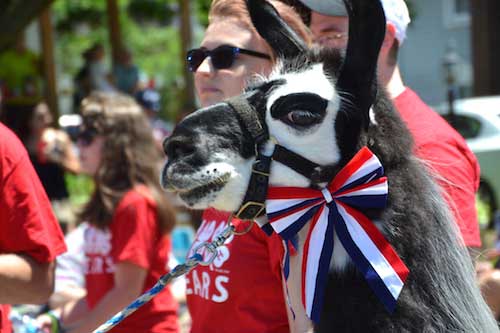 This llama joined 4-H kids in promoting the 100th anniversary of the 4-H program and Cornell Cooperative Extension.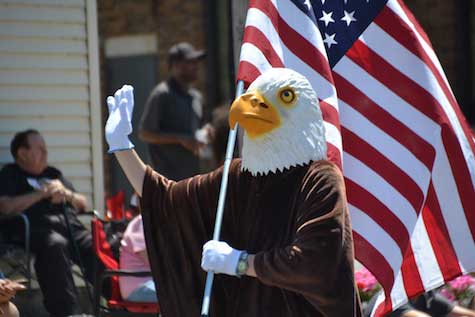 This costumed bald eagle joined the Knights of Columbus and St. Joan of Arc.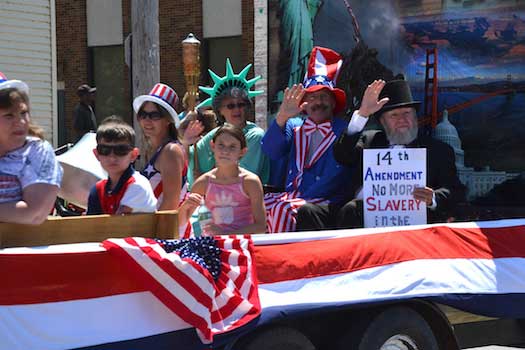 This group from the Knights of Columbus and St. Joan of Arc were celebrating freedom, including the 14th Amendment from 1868 which granted citizenship to people born and naturalized in the United States, including former slaves recently freed. (Bob Golden is holding that sign. Greg Dugan is dressed as Uncle Sam.)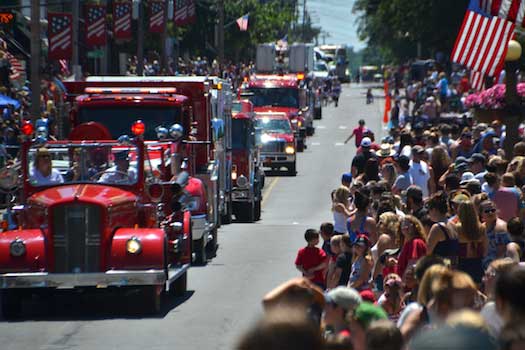 There were many fire trucks from Orleans and Niagara counties in the parade.
The crowd stands at attention for the Honor Guard.