Lyndonville man who earned medical degree at young age was renowned for fungi expertise
Dr. Charles E. Fairman will be featured at tours of Lynhaven Cemetery on Aug. 19, Aug. 21
By Catherine Cooper, Orleans County Historian
Illuminating Orleans, Vol. 2, No. 29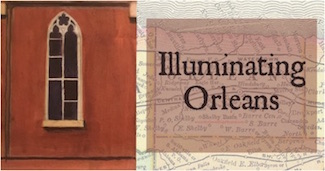 LYNDONVILLE – Several fine Italianate houses grace Main Street in Lyndonville. Our illustration, which is contained in the Historical Album of Orleans County, 1879, depicts one, the home at 55 South Main Street. The house was owned by Dr. J.D. Warren in the 1870s and subsequently by his daughter Louise and her husband, Dr. Charles E. Fairman, until his death in 1934.
Charles E. Fairman gained renown as a young man as the youngest graduate of the Yates Academy, where both of his parents were teachers. Subsequently, he was the youngest person to receive a degree from the University of Rochester. Having earned his medical degree at Shurtleff College, Illinois, in 1887, he returned to Lyndonville where he practiced medicine for many years, using as his office the distinctive small building to the north of the main house.
Active in village affairs, he was elected first President of the Village in 1903. The first meeting of the newly incorporated Village of Lyndonville was held in his office in 1903.
His true passion was mycology, the study of fungi. He specialized in the study of Pyrenomycetes and was recognized as an expert on the topic. He amassed a collection of over 23,000 fungi and published articles in many journals. He collected specimens for the New York Botanical Garden and for the Herbarium at Cornell University.
Dr. Fairman is buried at Lynhaven Cemetery. He is one of the many cemetery "residents" who will be mentioned on the upcoming tour of Lynhaven Cemetery, which will be held at 6 p.m. on Friday, August 19 and Sunday, August 21.