Lyndonville man attended DC protest, says Trump supporters unfairly characterized as 'lawless'
Group wanted Congress to investigate election
A Lyndonville man was among the tens of thousands of people who gathered in Washington, D.C. to support President Trump on Wednesday.
The Lyndonville man, who didn't want his name made public, listened to the president address the crowd and then walked down Pennsylvania Avenue to the U.S. Capitol. He said he helped remove a barricade but did not go inside the Capitol.
He said the group expected it would get to the Capitol and would be greeted by U.S. Sen. Ted Cruz, who would vow to press Congress to investigate the election results.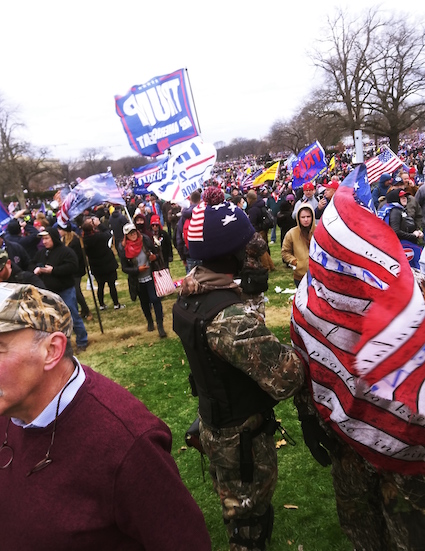 The protestors made it to the Capitol at about 1 p.m., when the Senate and House were each in their chambers discussing the certification of the electoral results. They would have to evacuate after protestors breached security and entered the building, some through broken windows.
"The Trump supporters are normally all good," said the Lyndonville man, 55. "We were looking for a positive response from Congress."
The Lyndonville man said police sprayed mace at the protestors, which surprised many in the group. He saw protestors up on a balcony throw chunks of wood at police, which disgusted him. He believes outside agitators infiltrated the group.
"The news coverage has painted us to be lawless and anarchist," the man said. "I support law enforcement."
The man said the group was guilty of being disorganized. He said they should have had a spokesman to relay their concerns that there were irregularities with the election that needed more investigation.
"We showed up and we were frustrated and angry," the man said. "It wasn't a planned attack. We just wanted assurance that it would be investigated."
The man said he joined the march to the Capitol wanting to show support for local Congressman Chris Jacobs, so he would vote to not certify the electoral votes. Jacobs was among the Republicans who didn't vote to certify the results.
"We thought they would acknowledge us, that it was a fraudulent election and they would investigate this," the Lyndonville man said about their presence at the Capitol. "But we were met with gas and fire extinguishers."
The man believes he was the only one from Orleans County at the protest in DC. He rode a bus with a group he connected with through social media. The man said he has attended several protests about Constitutional rights.
"I talked with a hundred people throughout the day and none talked violence or had guns," the man said. " The majority that was there was just trying to make their voices heard. It was just a small group that was violent."
Steven Sund, Chief of the U.S. Capitol Police, said 50 police officers were injured from the "riotous actions" of the group, with several officers hospitalized with serious injuries.
"The violent attack on the U.S. Capitol Police was unlike any I have ever experienced in my 30 years in law enforcement here in Washington, D.C.," Chief Sund said in a news release today. "Maintaining public safety in an open environment – specifically for First Amendment activities – has long been a challenge. The USCP had a robust plan established to address anticipated First Amendment activities. But make no mistake – these mass riots were not First Amendment activities; they were criminal riotous behavior."