Lyndonville Lions Club closes out busy week with outdoor concert at library
Press Release, Lyndonville Lions Club
LYNDONVILLE – Just off the heels of a very successful July 4th celebration the Lyndonville Lions Club closed out the first week of July with their 13th Annual Community Appreciation Concert.
The outdoor concert event was held at the Yates Community Library outdoor stage on Thursday evening and featured Crash Cadillac as the musical headliner. The annual event is free of charge and is meant to show the clubs appreciation for all those who attended the recent July 4th celebration.
Lions Club President Harold Suhr stated that the club had a record turnout for the 4th of July event and thanked everyone who attended and for their efforts in keeping the event safe, clean and family-friendly.  Suhr recognized and thanked the Orleans County Sheriff's Office.
"They were tremendous with traffic control and security throughout the entire day and worked well into the evening getting people home safely after the fireworks display," Suhr said. "The Lions are extremely grateful for all the people and organizations that sponsored the fireworks display."
This years' effort to upgrade the evening concert series seems to have been met with much approval and again Suhr thanked the Concert Series Sponsors. Sponsors included at the Bronze Level: Dr. Thomas Madejski, Paul Mullane and Shelby Crushed Stone; Silver Level: The White Birch Golf Club, Steven Vann from Burger King, Drum Oil and Propane and the Johnson/Feigl Families; Gold Level: Baxter International; Platinum Level: Batavia Downs Race Track and Gaming.
"The concert was well attended and social media feedback shows a positive response to the Lions Clubs efforts to bringing in top name local entertainment for the evening concert," Suhr said.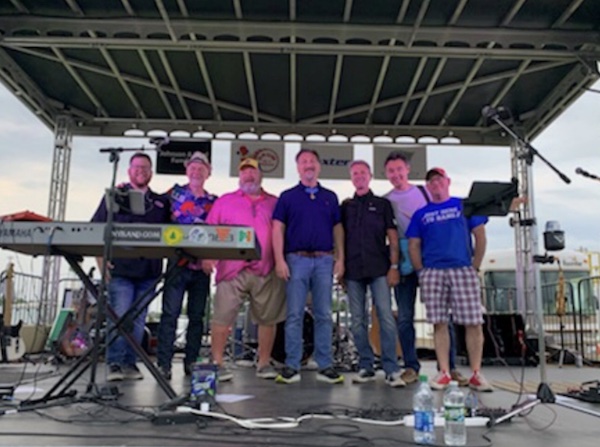 The concert headliner band DoubleShot gets a picture with Medal of Honor recipient David Bellavia just before they honored him with their rendition of "American Soldier" by Toby Keith.
The club further expressed their gratitude to Medal of Honor Recipient David Bellavia, who served as grand marshal of the parade.
"It was nice to have Sgt. David Bellavia back home to allow Lyndonville to express their appreciation for his service and sacrifice," said Russ Martino, one of Lyndonville Lions Club's senior members for over 45 years.
Last of all, the Lions are extremely appreciative for the voluntary efforts of the men and women of the 911th United States Air Force Reserve from Pittsburgh. This unit was responsible for the military flyover tribute to our local veterans just before the parade.