Lyndonville dedicates school yearbook for Megan Dix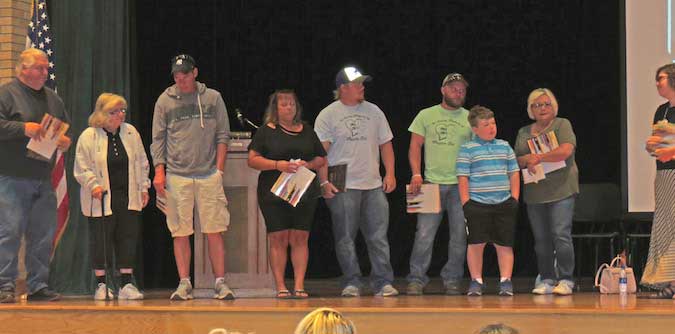 Provided photos
LYNDONVILLE – Megan Dix's family attended the dedication for the school yearbook at today's Awards Ceremony at Lyndonville Central School.
The 2018 senior class unanimously selected Megan Dix for the dedication. Dix was 33 when she fatally shot last Aug. 25 while taking her lunch break at a small parking lot near Lowe's, where she worked in Brockport.
Megan is the youngest of eight siblings. She and her husband, Chris, have an 8-year-old son, CJ, who is a student at Lyndonville.
Megan was a 2002 graduate from Lyndonville Central School. Her husband graduated in 2003.
Here is the written dedication in the yearbook:
On September 2nd, 1983 the world welcomed a beautiful baby girl, Megan Eleen Duncanson. As Megan grew she became an active member of the Lyndonville Central School. She had much love and pride for Lyndonville. Participating in many extracurriculars such as Soccer, Cheerleading, Softball, Band, Chorus, Yearbook, Prom Committee and Varsity Club to name a few of the many activities Megan enjoyed, throughout her youth and high school career.
While in high school Megan also met her future husband Christopher Dix. On August 19th 2002, Christopher asked Megan to be his girlfriend and the rest was history. The two high school sweethearts were inseparable and created a lifetime of memories together. Memories such as; graduation, Megan in 2002 and Christopher in 2003 both from Lyndonville. The two created a life with the birth of their son, C.J. on July 22nd, 2009 and became husband and wife on June 19th, 2010.
Megan enjoyed spending time with family and friends every chance she was given. A creative spirit, Megan also enjoyed adult coloring books, needlepoint, crocheting and was an avid reader. Her husband Christopher described Megan as perfect in every sense of the word. She strived to make everyone happy and always put others first. Megan truly was a darling daughter, caring mother, loving wife and compassionate friend. The world lost a beautiful person but gained an amazing angel.