Lyndonville celebrates becoming a Tree City USA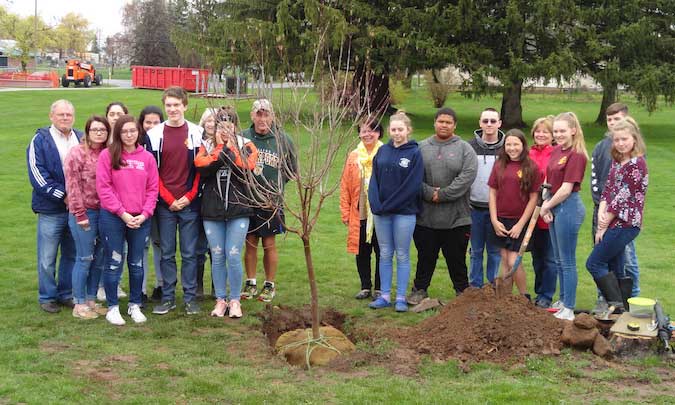 Provided photos
LYNDONVILLE – The newly formed Tree Committee of the Village of Lyndonville celebrated being named as a Tree City USA by planting a tree in the front of the Lyndonville Central School on Friday. Several students, members of the Tree Committee and DPW were there to celebrate.
People in the photo include Sawyer Wilson, Savannah Poler, Shantel Benedict, Faith Chaffee, Allyson Deslatte, Tamara Huzair, Tyler Coyle, Mason Boyd, Elizabeth Whipple, Dustin Solomon, Patrick Hargrave, Amber Grabowski, Jenahlee Reimer, RitaJane Isaacson, Mayor John Belson (far left), Ginny Hughes, Keith McKinney, Aimee Chaffee, Carla Woodworth and Teri Woodworth.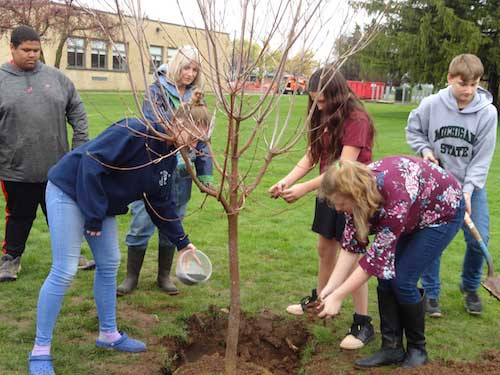 The tree was planted near the Main Street side of the school. Future plantings in the village are being planned. Tree Committee members were assisted by Robert Bow, head groundskeeper for the school; Mayor John Belson; and Terry Woodworth, superintendent of the Department of Public Works. Residents are encouraged to contact the village office if they would like to be involved in future plans.