Lyndonville begins Christmas tree takedown from village park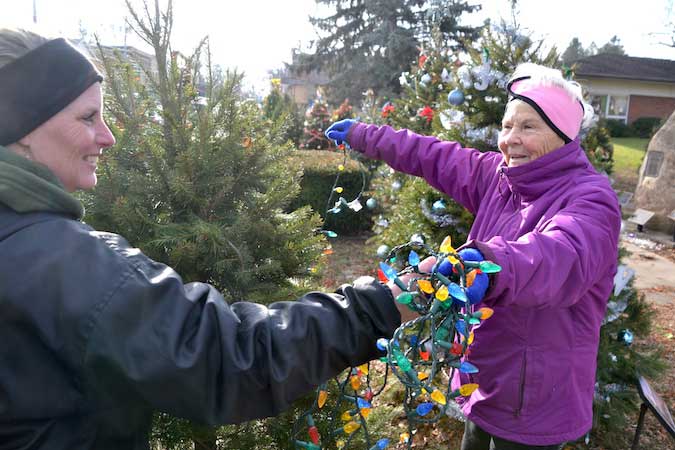 Photos by Tom Rivers
LYNDONVILLE – Sheri Dent, left, and Linda Fisk take ornaments off a Christmas tree this morning that was decorated at Veterans Park for Fisk's granddaughter, the late Christina Ashton.
It is one of 75 trees that was decorated for Lyndonville's sixth annual display of trees. The number has grown each year since Lyndonville started it in 2013 with 26 trees.
Fisk has decorated a tree for her late granddaughter the past three years.
"Christina loved Christmas and Christmas trees," Fisk said. "I don't want to forget her and I don't want other people to forget about her."
Dent also decorated a tree for her parents, the late Howard and Gloria Dix. Her father was a long-time mechanic across the street at Crosby-Whipple. He also enjoyed canning. She decorated the tree with canning lids, and Hot Wheels cars and trucks.
Her mother loved sewing and Dent put thimbles on the tree in her mother's honor.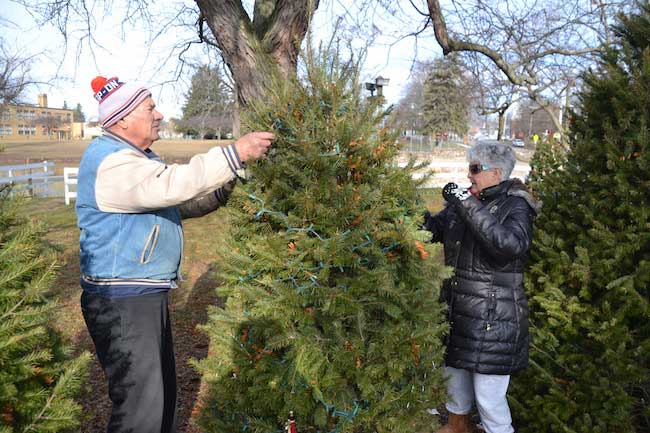 Paul and Paulette Daigler remove ornaments and lights from their tree. Their daughter Kelly Mana and her husband Tony also sponsored the tree.
The families and organizations pay $30 for a tree and then decorate it. Some of the trees were vandalized, including Daigler's.
Mr. Daigler said it was discouraging to have some of the ornaments taken, including a Santa hat.
The family isn't sure if they will have a tree again next year at the park, although Mr. Daigler said he is leaning towards being back. The family has had a tree at the community display the past two years.
"We just thought it was a nice thing to do," he said.
The participants have until Sunday to remove the lights and ornaments from the trees.