Lyndonville band plays world premiere of new composition at elementary concert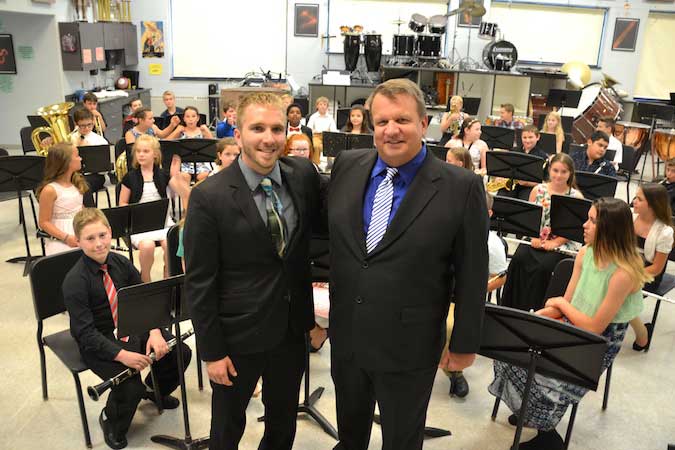 Photo by Tom Rivers
LYNDONVILLE – Lyndonville Elementary band teacher John Bailey, front left, is pictured with composer Robert Grice of Florida on Thursday evening before the band's spring concert.
Grice wrote a new composition – "Industrial Revolution: The Rise of a Nation" – that was performed for the first time by the Lyndonville band.
Bailey last year was the first winner of Lyndonville's Educator of the Year, which came with a $1,000 award for Bailey to use at his discretion to promote education. He wanted to have a new song written for the band.
He reached out to Grice, who has 140 published works. Grice also worked 30 years as a school band teacher. Click here for more on Grice.
Grice thought about Lyndonville and Western New York, and the region's role in the Industrial Revolution and the country's growing economic power about two centuries ago. He wrote parts for the percussionists to sound like factories working. He is hopeful the composition will catch on with more bands.
Whenever it's performed again, the music should indicate it had its world premiere in Lyndonville, NY.
John Bailey, the Lyndonville band teacher, said he and the students are thrilled to be the first group to play the composition.
"It's really cool," he said before the concert. "We get to do a world premiere."