Lyndonville and Medina students will perform The Addams Family

A zany cast of characters hits the stage in Lyndonville
Photos by Tom Rivers
LYNDONVILLE – Qasim Huzair stars as Uncle Fester in the upcoming production of The Addams family by Lyndonville and Medina students. Huzair is shown at rehearsal on Wednesday. The people in the back are the "Ancestors." Uncle Fester sings about his love for the Moon.
The show features 38 students from the two schools, plus another 17 in the stage crew. In addition, the superintendents from both school districts are playing in the pit band. Jason Smith of Lyndonville is playing the trombone and Mark Kruzynski of Medina is on the drums.
The performances are Friday and Saturday at 7:30 and Sunday at 2 pm. The shows are at Lyndonville High School's Stroyan Auditorium, 25 Housel Ave. Tickets are available at the door.
Jennifer Trupo is director of the musical. She held auditions in November and students have been rehearsing for about four months.
She wanted to do the show because it is zany and features several character actors. She knew the cast had the talent to pull off the show.
"They have embraced it and they are having fun with it," Trupo said. "We have a lot of phenomenal character actors. Most of the leads are in 9th or 10th grade. They're very young but they are very amazing."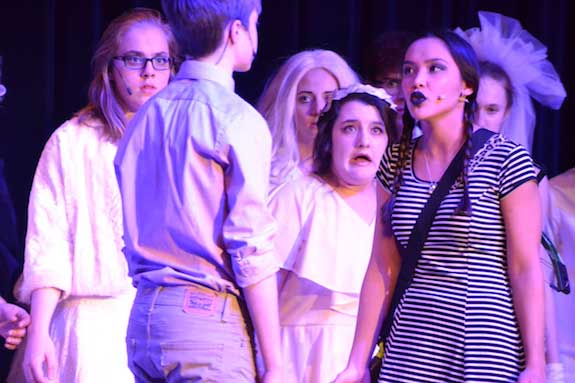 It's a love story, really. There may be some dark themes and an obsession with death, but the latest musical by Lyndonville and Medina students is also a love story between Wednesday Addams (Layna Viloria) and Lucas Beineke (Jacob Corser), who come from two very different families.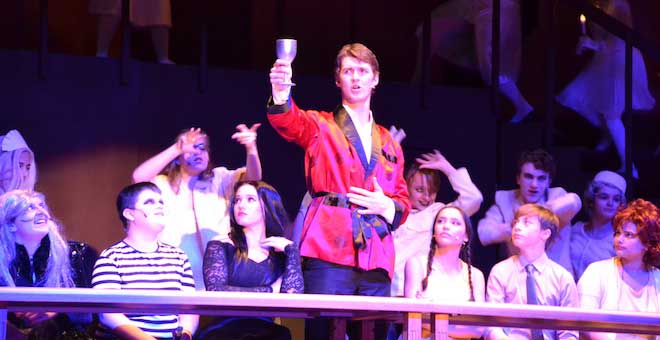 Christian Hahn portrays Gomez Addams, the patriarch of the family. He is shown while the Addams family welcomes the Beineke family for dinner. The Beinekes increasingly grow alarmed by the ghoulishness of the Addams family.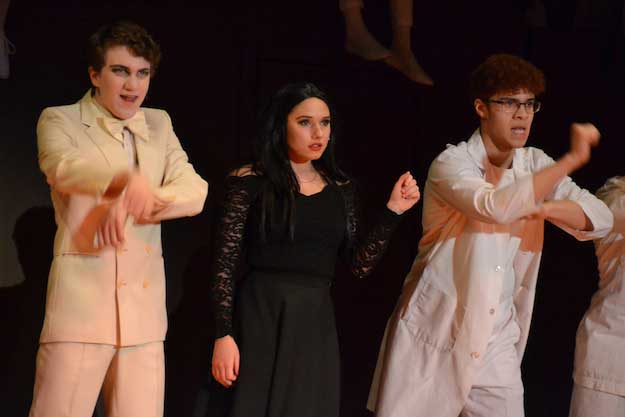 Cora Payne plays Morticia Addams, the family matriarch who fears, with her daughter's engagement, that Morticia is less needed to her family. She is shown with two Dancing Ancestors, Sawyer Wilson (left) and Trenton Crews.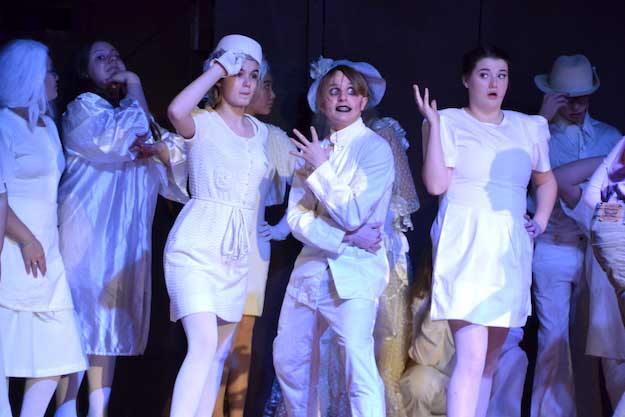 The Ancestors make many appearances during the show.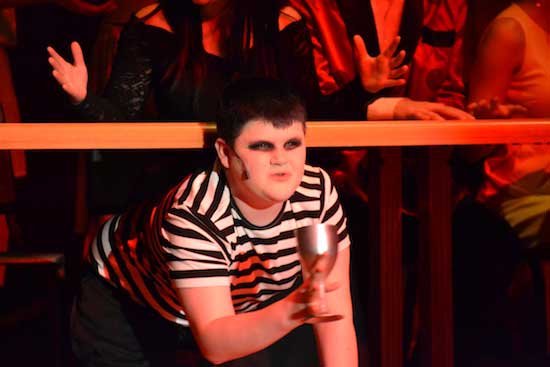 Brian Cunningham plays Pugsley Addams. He steals a potion from Grandma and intends to give it to his sister, hoping she wouldn't go through with the wedding. The potion is supposed to bring out someone's dark nature.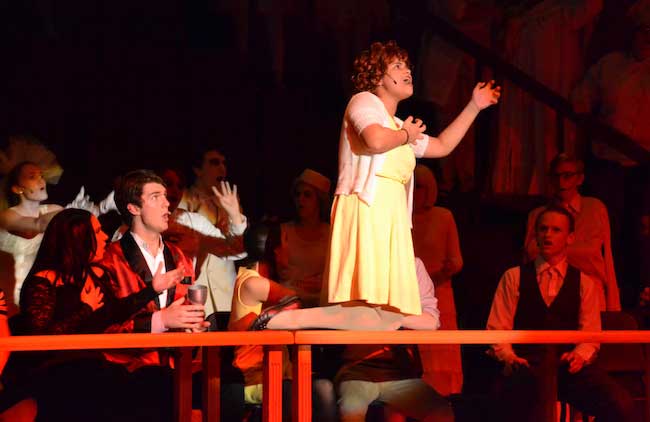 Tamara Huzair stars as Alice Beineke, the mother of Lucas. She drinks the potion intended for Wednesday and in front of everyone declares her marriage is passionless.