Lyman, former Swan Library director, recalled as 'pillar' for Albion community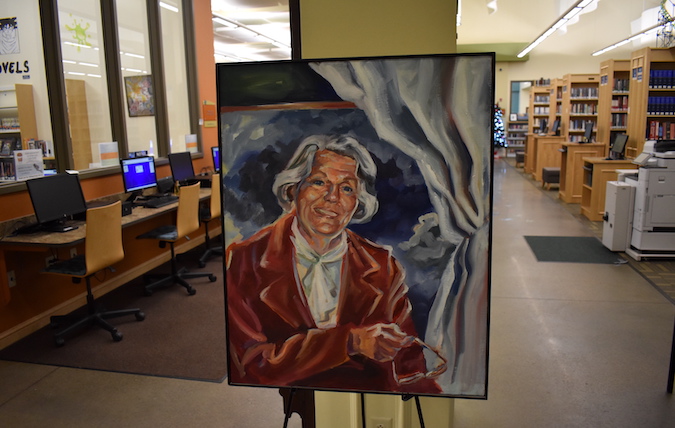 Photo by Tom Rivers
ALBION – A portrait of Evelyn Lyman was displayed prominently in Hoag Library in Albion on Monday, a day after the death of Lyman at age 97. The painting was donated to the library by Lyman's son, Nathan. Linda Bucklin of Lyndonville is the artist who created the portrait.
Lyman served as the director of the former Swan Library for 25 years, leading the local public library from 1973 to 1998.
"She saw her mission as providing for the community," said Betty Sue Miller, the current Hoag executive director. "She wanted to bring out the best in the community."
Lyman pushed the make the former Swan Library more accessible and appealing for the community. Swan Library was in a former mansion and was cramped for space. A new library opened in July 2012.
Lyman had an elevator installed in the former Swan Library, and added summer youth programs. She welcomed GED classes and promoted arts and culture events. The Genesee-Orleans Regional Arts Council honored her in 2010 with a Community Arts Award "for her passionate contributions to the cultural life in the community and for her preservation efforts at the Swan Library."
Miller said Lyman served the community in many ways. Miller remembers her presence at the library, and also at the First Presbyterian Church with the choir and as an elder and deacon. Miller and Lyman attended the same church.
"I remember her as a pillar of whatever she was involved in," Miller said.
Lyman also was involved with scouting, Young Woman's Service Club, Orleans County Planning Advisory Committee, Bergen Swamp Preservation Society, Albion Board of Education, the Republican Committee, and as a founding member of the Cobblestone Society, serving for many years as the organization's president.