Lt. Gov. Hochul stops in Medina to promote small businesses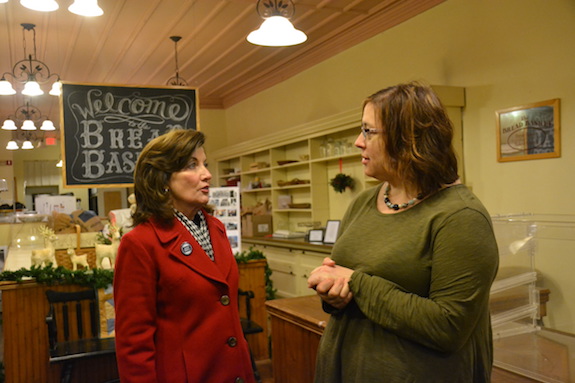 Photo by Tom Rivers: Lt. Gov. Kathy Hochul visited several business owners in Medina, including Bread Basket owner Lissa Stewart-James, yesterday during Small Business Saturday.
Hochul stopped by five communities on Saturday. Besides Medina, she was in Brockport, Batavia, Williamsville and Buffalo.
"We want to showcase the small businesses that are the backbone of these communities," Hochul said in Medina.
She praised Medina for a "vibrant downtown" that creates jobs, a sense of community identity and revenue to maintain historic commercial buildings. The Medina downtown has a "tremendous variety" of retail shops, she said.
"This is out of It's A Wonderful Life," Hochul said about downtown Medina.
Hochul said next year she wants to see a special focus on canal communities and their economies. Next year will be the 200th anniversary of the start of construction for the Erie Canal. It took eight years to build. The state is planning a bicentennial celebration from 2017 to 2025 for the 200th anniversary of the canal's construction.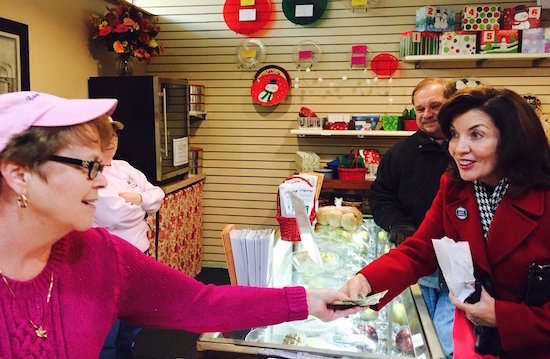 Photo from Kathy Hochul's Office: Hochul stopped in at Case-Nic Cookies, bought a snack and chatted with store owner Mary Lou Tuohey. Medina Mayor Mike Sidari is in back.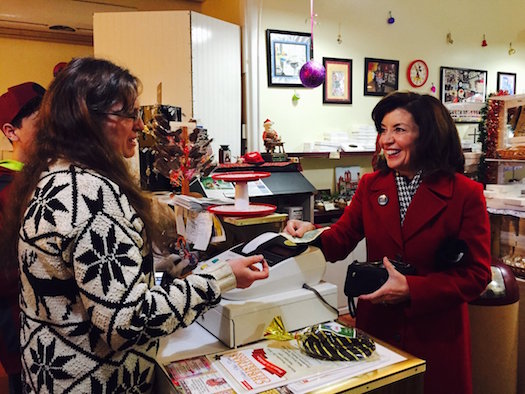 Hochul also purchased one of her favorites, sponge candy, from Sue Fuller at Della's Chocolates. The lieutenant governor also stopped by The Book Shoppe and English Rose Tea Shoppe.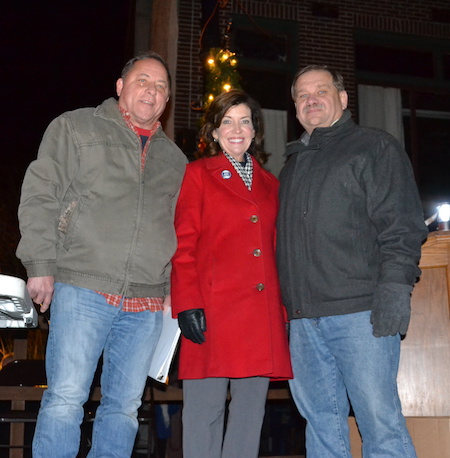 Photo by Tom Rivers: Hochul is pictured on the reviewing stand for the Parade of Lights with Assemblyman Steve Hawley, left, who served as announcer and Medina Mayor Mike Sidari.