LPN at Villages, stricken by Covid, gets warm welcome on return home
Diane Conrad has recovered after more than week on ventilator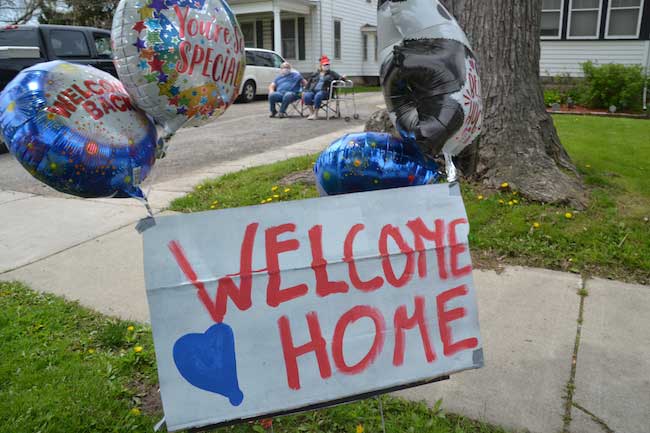 Photos by Tom Rivers
ALBION – Diane Conrad and her husband Kelly wait in front of their house on South Main Street this afternoon. Their family organized a motorcade of well-wishers for Mrs. Conrad. About 50 vehicles were in the motorcade.
Mrs. Conrad worked 13 years as an LPN at The Villages of Orleans Health and Rehabilitation Center in Albion. She contracted Covid-19. She didn't realize she had it until April 29, when she was taken to Strong West in Brockport after being short of breath and disoriented. Her oxygen levels also had plummeted to the 60s.
She was taken by ambulance that night to Strong Memorial Hospital in Rochester. The next day she was on a ventilator. She came off the ventilator nine days later and continued to rebound. She was able to come home on Friday after 16 days in the hospital.
"Thank you all for your continued support," she said before the motorcade started. "I made it this far with everyone's prayers."
The Villages has been decimated by Covid-19 with 21 residents dying from the virus and 87 total testing positive. Conrad is grateful she pulled through the illness after being hospitalized.
She said it is painful to look at the obituaries and know so many people from The Villages have died.
"It breaks my heart," she said. "I've lost so many friends."
Her daughter Casey Conrad said her mother has made a remarkable recovery.
"I amazed because she couldn't walk and spent over a week on a ventilator," Casey said.
Conrad is waiting a few more days to make sure she is totally recovered from Covid-19. Once she is deemed to have defeated the virus, she looks forward to embracing her family. Right now, she is keeping her distance.
"When I can hug my grandchildren that will be my happiest day," she said.