Lots of food available at fairgrounds in new distribution format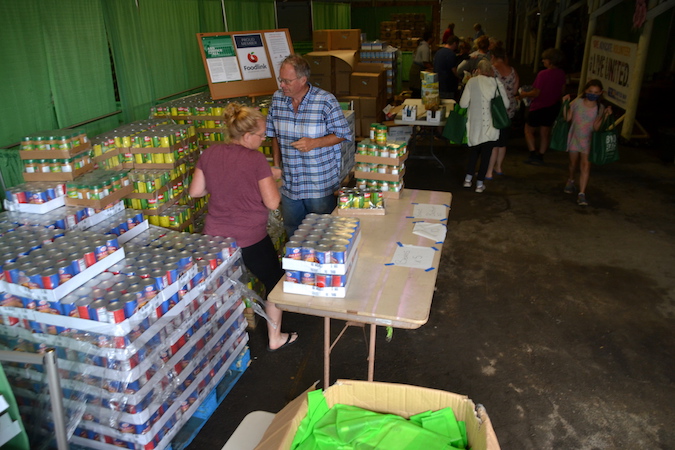 Photos by Tom Rivers
KNOWLESVILLE – Marsha Cook, a 4-H volunteer, and Peter Beach, a buildings and grounds employee for the Cornell Cooperative Extension in Orleans County, work together getting cans of corn and beans ready as part of a pop-up food pantry today at the Fairgrounds.
Foodlink in Rochester delivered two trucks of food earlier today at the fairgrounds. The Extension is hosting the first pop-up food pantry in a switch from the food distributions from April 2020 to last month, when 20-pound boxes of food were set in the trunks of vehicles.
In the new format, people park their cars and go into the Lartz Building and pick and choose what food they want. The CCE had about 200 people come through by 2:30 today, in the first hour and half of the program.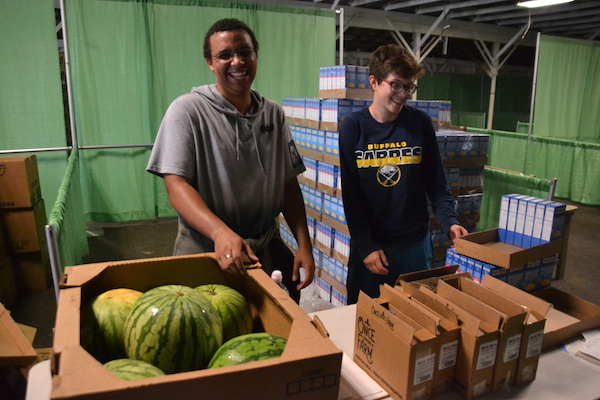 Detonse Burroughs of Kendall, a summer worker for the Job Development Agency, and Kayli Miller, a 4H'er from Albion, have watermelons ready for people to pickup.
There was enough food for about 400 households. There were limits on the quantities, including one watermelon per household.
The pickup today was scheduled to 5 p.m., but Extension staff and volunteers are expected to stay longer if the food isn't gone.
Robert Batt, CCE executive director in the county, said he expects more of the pop-up pantries at the fairgrounds. He would like to offer them to the community on a monthly basis.
"It fits with our mission and we're centrally located," he said.
The new format was much easier on the CCE staff and volunteers, who didn't have to lug heavy boxes to vehicles, Batt said.
He also thought the people receiving the food preferred the new format where they could select what they wanted.
"It's been nice to see people who we have only been seeing through their car window," Batt said.