Long-time reference librarian has last day at Albion library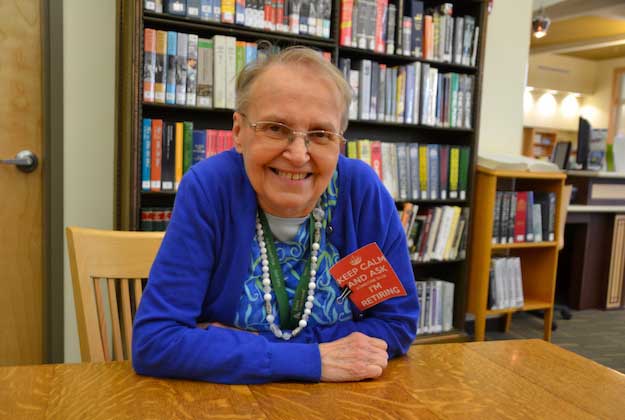 Photos by Tom Rivers
ALBION – Cheryl Mowatt has been a steady presence at Albion's public library for 33 years. Today is her last day in her job as reference librarian. She is wearing a card that says, "Keep calm and ask someone else I'm retiring."
Mowatt and her late husband Bob moved to Albion in 1979 when Mr. Mowatt was appointed to be pastor of the First Baptist Church in Albion. He led the church until his retirement in 1999. Mowatt and her husband have two grown sons, Ian and Andrew, and four grandchildren.
Mrs. Mowatt started work at the former Swan Library in January 1985. In July 2012 the new Hoag Library opened.
"I love the new library," she said. "It's beautiful. It's airy. It's bright, and it has a lot of parking. The people of Albion are very proud of this building."
Mowatt has typically been at the front desk, ready to answer a question or help people track down answers. Library patrons had lots of questions over the years, many were health related or about genealogy. She remembers one question that stood out over the years: someone wanted to know if there was a book or materials that explained how to make moonshine.
"I've met many interesting people in the 33 years," Mowatt said this afternoon. "I've really enjoyed it. It's kind of like being a detective. I like the challenge."
The reference librarians are "jack of all trades," Mowatt said. They help in circulation and assist the public in using computers and the printer.