Long lines continue with return of food distribution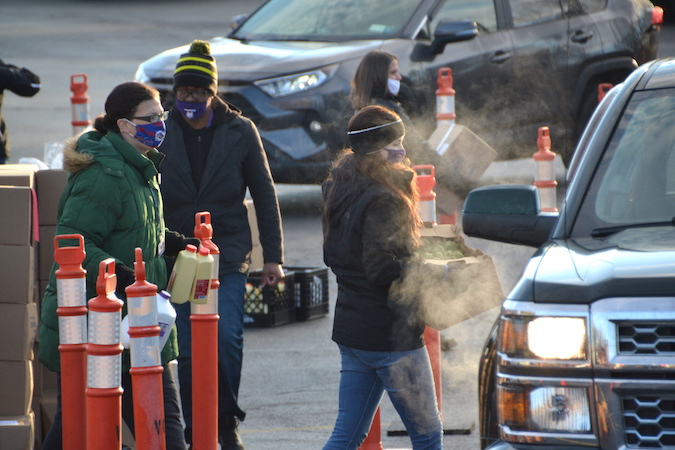 Photos by Tom Rivers
ALBION – There was a long line of vehicles in Albion this morning for a food distribution at the Main Street Store parking lot. A group of Iroquois Job Corps employees made up the bulk of the volunteers as well as staff from the Orleans County Office for the Aging and Community Action of Orleans and Genesee. Melissa Blanar, the OFA director, is at left.
This was the first food distribution in two weeks in Orleans County. The distributions include about 300 boxes of food, weighing 30 to 40 pounds. Each box has a mixture of produce, dairy and meat.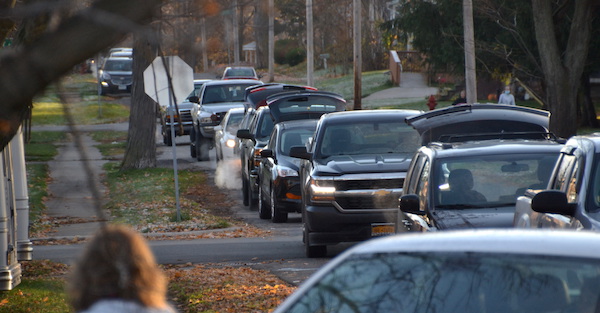 The vehicles were lined up down Chamberlain Street at about 8:30 a.m. The line also stretched down McKinistry Street, East Park Street and then down Main Street to Route 31.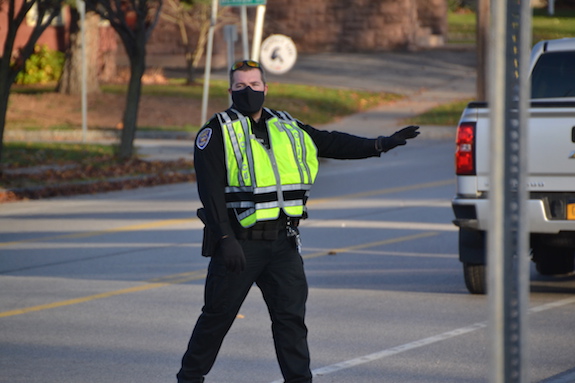 Albion police officer Will Francis directs traffic during the morning bottleneck.
The upcoming schedule includes:
Friday, November 20th – Ridgeway Fire Department at 11392 Ridge Road, Medina – line up on Horan Road.
Friday, December 4th – Cornell Cooperative Extension's 4-H Fairgrounds at 126900 NYS Route 31, Albion – enter off Route 31-new location for Friday morning distribution.
Friday, December 11th – Community Action Main Street Store at 131 S. Main Street, Albion.
All events start at approximately 8:30 a.m., if delivery trucks are there by 8 a.m.
The U.S. Department of Agriculture has funded the USDA Farmers to Families Food Box Program nation-wide through the end of December.