Long caravan of vehicles shows support for 'Blue' – and Trump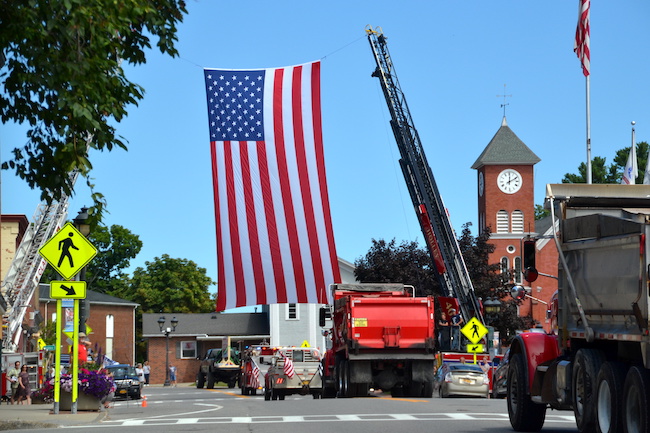 Photos by Tom Rivers
HOLLEY – The third annual "Ride for the Blue" passed throughout Orleans County today, a 52-mile journey that included riding under a large American flag held up by ladder trucks from the Clarendon Volunteer Fire Company and Murray Joint Fire District.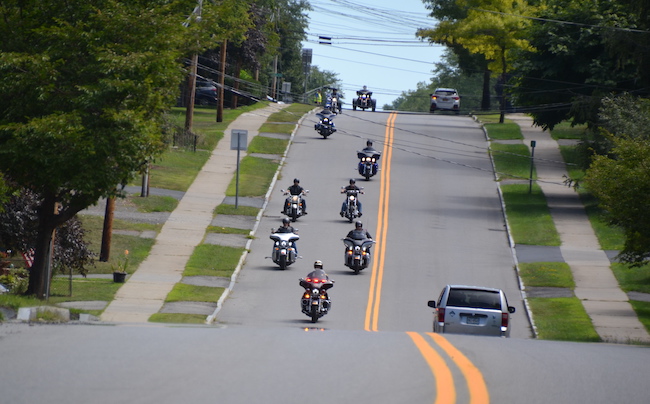 The ride included 200 to 300 vehicles – motorcycles, patrol cars, fire trucks, vintage cars, dump trucks, construction vehicles and tractor trailers. This is near the start of the group, shown here on Route 31 getting close to the Public Square in Holley.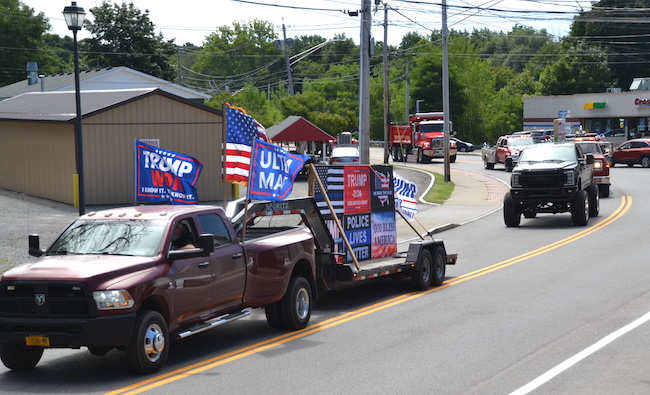 Many of the vehicles displayed signs for Donald Trump to run for president again in 2024, and some participants also mocked President Joe Biden with "Let's Go Brandon" displays.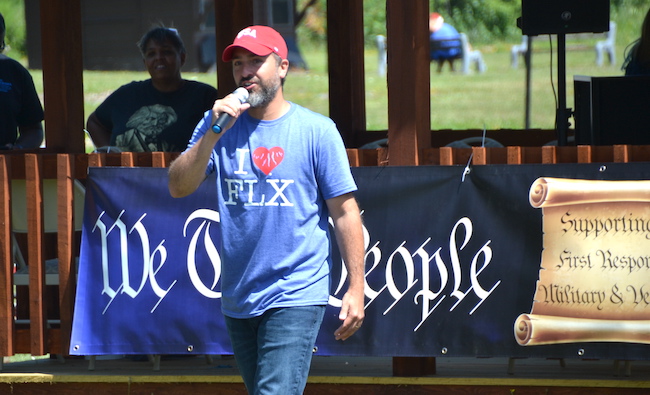 After the ride, the group gathered at property owned by David Paul at 3823 County Line Rd. in Murray. There speakers stated their support for law enforcement.
Mario Fratto of Geneva is a Republican candidate for the 24th Congressional District. He is in a primary on Aug. 23 against Claudia Tenney.
Fratto said law enforcement agencies are understaffed. He said the country has lost its way.
"We are losing our values and culture," Fratto said. "We are being taught to hate our country rather than to love it."
He asked for support on primary day. Fratto is a lawyer who now is part of his family's granite business.
"We've had enough of career politicians," he said.
Donna Smith of Holley rode in a 1964 Ford Fairlane with her friends, Ken and June Chippendale of Kendall.
"It was wonderful," Smith said about the ride that passed through Holley, Albion and Medina on Route 31, before going north on Route 63 to Ridgeway, and then going down Ridge Road through Gaines and Murray. "There were so many people out supporting our police and first responders."
Smith said she also opposes what she sees as a movement towards socialism and the "cancel culture."
"People need to have more respect for law and order," she said after the ride. "There is right and wrong."
June Chippendale said many in the community acknowledged the caravan of vehicles.
"It was awesome to see all the people out in the little towns waving their American flags," she said.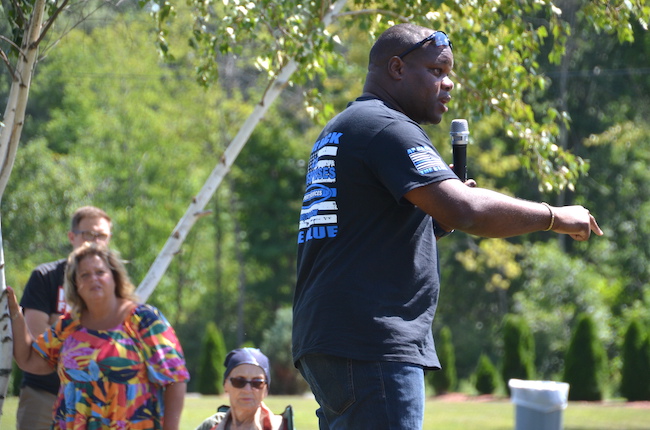 La'Ron Singletary, a retired Rochester police chief, is running for the 25th Congressional District as a Republican against Joe Morelle, a Democrat from Rochester. Singletary said Congress needs members with experience in law enforcement.
He said the country is short about 100,000 police officers, and that is putting communities at risk.
"The three most dangerous words you've ever heard – 'Defund the police,'" Singletary said. "We need to refund the police."
Singletary said people don't feel safe. He noted the City of Rochester had 81 homicides in 2021 in a city of about 200,000 people, which was the highest murder rate among cities in the state.
Singletary said he continues to have deep appreciation for police officers, and thanked people for being part of the "Ride for the Blue" today.
"It's a thankless job these men and women do," he said. "They do it because it is a calling. They are called to do it. They put their lives on the line."
He paid tribute to Tony Mazurkiewicz, a Rochester police officer who was killed in the line of duty on July 21. He served with the Rochester Police Department for 29 years.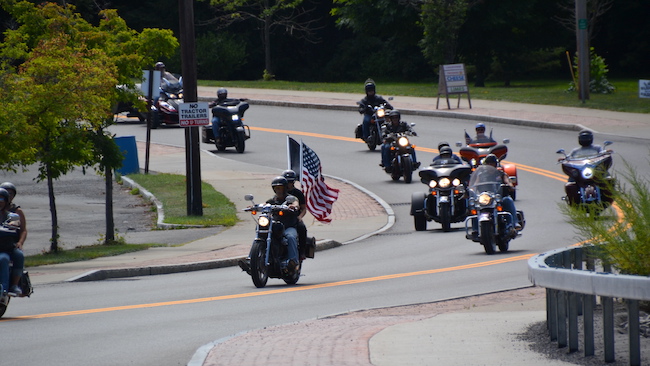 The procession heads down Route 31 in Holley with motorcyclists leading the group.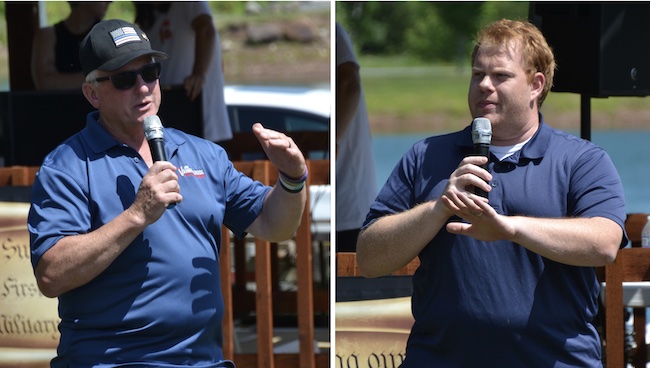 Former Gates Police Chief Jim VanBrederode (left) and State Assemblyman Josh Jensen addressed the crowd.
Assemblyman Jensen represents a district that includes the towns of Greece, Ogden, and Parma and the villages of Hilton and Spencerport.
"We're in a  public safety crisis," he said. "We need to support law enforcement. People need to feel safe."
VanBrederode has a 37-year career in law enforcement. He is running for State Senate in the 56th district in part of Monroe County.
He said state legislation, including bail reform, have made communities less safe. Judges aren't able to set bail for most non-felony charges.
VanBrederode said the state government is too dominated by Democrats in the state Legislature and in the Governor's office.
"We are totally screwed if they maintain their super-majority," he said.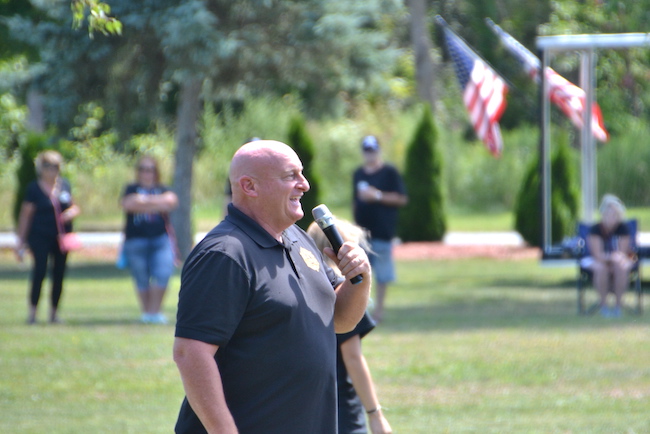 Lewis County Sheriff Michael Carpinelli, who campaigned for governor earlier this year, addresses the group after the ride.
He said the community mourns the loss of Tony Mazurkiewicz, the Rochester police officer shot on July 21.
Carpinelli blamed the media and many politicians for "slandering" poli e officers, making their jobs even more difficult. He said officers turn back the negativity and continue to serve their communities.
"We will stand up honorably," he said.
He urged the group to stay vocal and not accept the status quo.
"We are in a fight to keep out Constitution," he said. "We are in a fight to keep that American flag."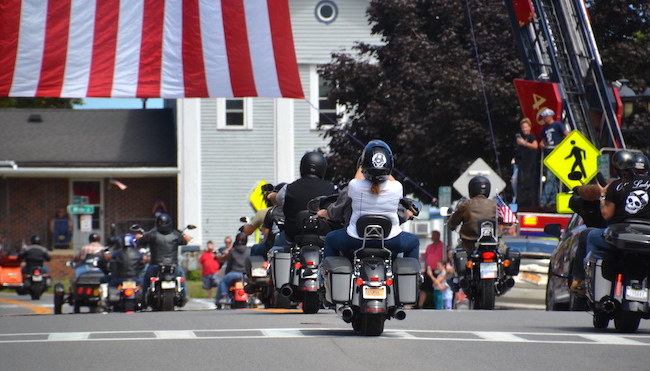 These motorcyclists pass under the American flag in Holley.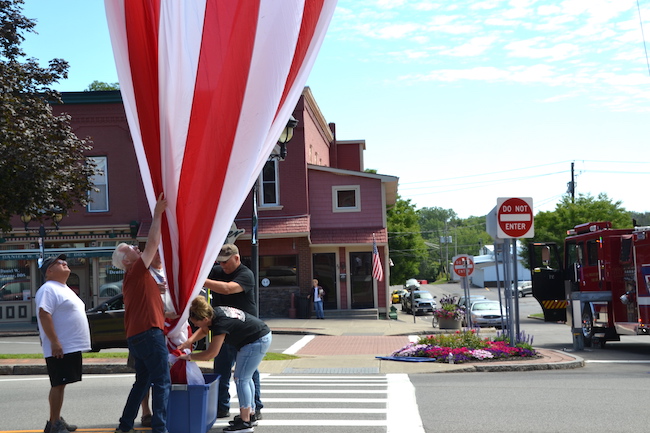 Firefighters put the flag away after the ride. This group includes Jeff Lavender, Ron Meiers, Fran Gaylord, Mike Szymanski and Shannon McMillion.
Szymanski said he hoped the ride today made people think about the people serving in law enforcement and others as first responders.
"If we're out of sight, we're out of mind," he said.
Szymanski, 64, has been a Holley firefighter for 47 years.
He said local fire departments, nearly all run by volunteers, need more members.
"We're volunteers who donate our time," he said. "We need a new generation of volunteers."