Lockstone owners recognized as Small Business of the Month
Wedding and events site seen as draw to community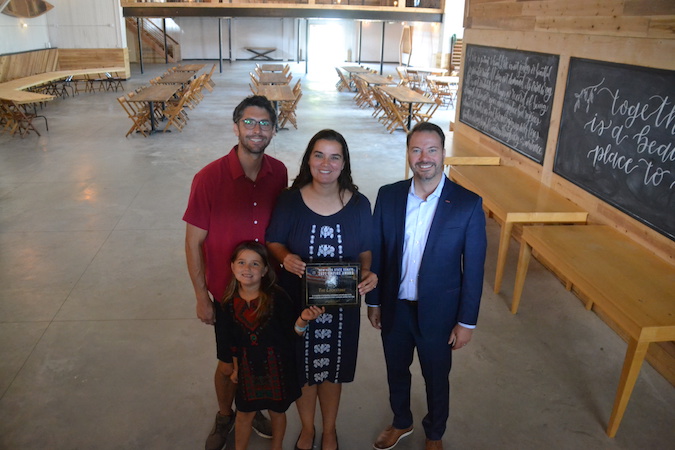 Photo by Tom Rivers
ALBION – State Sen. Rob Ortt on Tuesday presented a "Senate District 62 Small Business of the Month" award to Natasha Wasuck and her husband John Hernandez. They are shown inside the Lockstone at North Main Street, next to the Erie Canal. Natasha and John's daughter Ephy joined them.
Wasuck and Hernandez bought the site three years ago. It was a former auto repair business. They have transformed the site into a wedding and events center. They also use the front part of the building for Tinsel, an ice cream business that opened in June 2019. The site also includes "The Kitchen," a private event room used for celebrations and community meetings.
The Lockstone has hosted eight weddings so far this year and has 16 more scheduled for 2021, and 30 next year. The 30 weddings next year are expected to draw at least 3,000 people to Albion.
Ortt first toured the site on July 16 to see some of the locations receiving funds in Main Street grant from the state. Ortt said he was impressed by the couple's vision for the property and their work in giving the building from 1875 a new purpose.
"It's really cool what you've done with this spot," Ortt told Wasuck and Hernandez.
Ortt previously served as mayor of North Tonawanda where he said small business owners were the key to driving innovation to the downtown. He praised Wasuck and Hernandez, who are from Brockport, for seeing the potential in the Lockstone location. He said "fresh eyes" coming into a community sometimes see what long-time residents miss.
Wasuck has been involved in the Albion Merchants Association, helping to plan community events. She sees Albion's connection to the original Santa Claus School, led by the late Charles Howard from 1937 to 1966, as a way to distinguish the community from other canal towns.
She tapped into that Santa history by naming the ice cream business "Tinsel." She also led the effort to have a Santa mural painted next to the Lockstone at the Pennysaver building at 170 North Main St. She also raised money for a soon-to-be planed Christmas tree on the Courthouse lawn.
Ortt sees the historic canal downtown like Albion as irreplaceable treasures.
'I've always felt people want to be in these downtowns," he said. "You can't replicate this."
But he acknowledged it can be tough to make money these days for small businesses. That's why he started his monthly award in February, wanting to highlight a business in his district, which includes Niagara, Orleans and part of western Monroe.
"My whole district is along the Erie Canal, from North Tonawanda to Spencerport," Ortt said. "The canal is your ticket to development."
He said Covid-19 restrictions made it even more challenging for business owners. Many had to close to in-person sales or face reduced capacity. There have been supply-chain disruptions and a shortage of workers.
"Covid has really emphasized the challenge of running a small business," Ortt said. "These businesses never had a playbook for how to operate in a pandemic and then to have to deal with the restrictions."
Wasuck and Hernandez said they feel more convinced the weddings and events site in Albion was a good choice. Most of the weddings have been couples from either Rochester or Buffalo, who like the location between those two cities.
The couples like being by the Erie Canal for their wedding, and Wasuck and Hernandez give the couples free rein of the facility, allowing them to decorate however they want and to bring in bartenders, caterers, DJ's and other vendors.
The couples also like the industrial vibe at the Lockstone.
"It's a unique location," Wasuck said. "It's not a golf course or a rustic barn. The people like it here. They are having a good time."
Wasuck has been successful marketing the site to couples and her husband has done much of the construction work himself.
"We see this as an opportunity to 'create the community you want to be a part of' here in Albion," Wasuck said. "We recognize the importance of the Erie Canal for tourism and appreciate the unique history this village has to offer."