Local school leaders worry about filling teaching positions
MEDINA – Local school district leaders say they worry about filling teaching positions, especially with many teachers retiring after this school year.
Normally, there is a wave of new applicants but fewer college students have been pursuing the teaching profession. That has districts competing for a smaller number of teachers, especially for sciences.
"We're having a really hard time," Julie Christensen, Kendall Central School superintendent, said about filling some openings. "The media really did a number on the teaching profession."
Kendall is struggling to fill all positions, including elementary teachers, bus drivers and cleaners. Christensen was among a panel of speakers on Thursday afternoon during a session for Leadership Orleans. There are 26 people in the second year of Leadership Orleans. Each month the class goes on tours and focuses on an issue or a sector of the community. This month's focus is on education.
The panel said it is getting harder to attract teachers to the county. Teachers are in demand, and they can earn more in suburban school districts, and often don't have to teach a range of sections of a subject. For example, in Medina a French teacher has to lead several classes at different levels of the subject. That means the teacher is preparing multiple lesson plans. In a bigger district, that teacher might only have one or two lesson plans, said Mark Kruzynski, the Medina school superintendent.
Medina expects to have 15 teaching openings to fill after this year, and that number could go up if more teachers retire.
"We're struggling to find qualified people," said Marc Graff, Medina school business administrator.
Medina also is seeing fewer student teachers and student observers, he told Leadership Orleans.
Christensen said Orleans County would benefit from better PR, with local officials and residents touting safe and nurturing schools with very high graduation rates.
The school leaders shared their opinions about challenges facing school districts.
Christensen said social media has some downsides. Inaccurate information often quickly spreads in the community. Social media also is a conduit for bullying and sexting among students, she said.
Chad Kenward, the Medina police chief, worked for eight years as the school resource officer in Medina. He said school safety remains a priority. He is grateful the school district has continued a partnership with the police department, welcoming an officer into the district as a resource officer. Corey Ambrose is the current school resource officer.
"These days the school resource officer is the first line of defense," Kenward said. "We are talking to kids every day. We are liaison between the police department the school."
Kenward would connect with students by participating in gym class, helping coach modified basketball and being an active volunteer with the marching band.
He also taught students about bullying and discussed the role of law enforcement with drug seizures.
Kenward said the role allows the police to build relationships with students in a nonconfrontational way. Kenward said the officer makes the district safer and prevents problems, although that is difficult to quantify.
Graff, the school's business administrator, said the officer "is worth every cent." Medina pays the village about $60,000 to have an officer work full-time out of the district during the school year. During the summer, the officer returns to the police department for road patrol.
"Just the fact there's a (police) car parked out front" is a deterrent, Graff said.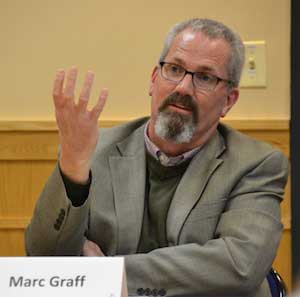 Albion, Kendall and Lyndonville also are paying for school resource officers, and Holley hires COPS security, a private security firm.
Graff said the school districts are feeling the financial pressure. Because they are low-wealth districts in Orleans County, they are very dependent on state aid for their budgets. That amount can vary. Graff said the state hasn't been providing what districts are due through the Foundation Aid formula.
Districts are preparing their budgets now. They will likely be adopted by the boards of education in April and go before voters on May 21. However, districts still aren't sure what their state aid will be because the state budget hasn't been adopted, Graff said.
The state and school districts aren't on the same fiscal years.
"We're guessing on revenue," Graff said. "We're building a budget on guesswork until we truly know what we're getting."
Districts also now contend with the tax cap, which is advertised as a 2 percent cap but can vary based on many factors. Sometimes the tax cap is barely above 0 percent. In 2019-20, Medina has a cap of about 4 percent.
The state implemented the cap in 2012. Since then, the number of voters for school budgets has dropped significantly in WNY because residents feel assured the tax increases will be minimal. Graff presented data that showed the number of voters in 2012 for school district budgets in WNY was 72,379. That was down to 46,302 in 2018.
Robin Silvis, vice president of the Board of Education for Holley, said there is apathy among many community members. They don't tend to vote or attend meetings. She does, however, hear people's concerns about the school when she is at the grocery store.
Silvis said the board of education sets policy for the district, without micromanaging. If people complain about a teacher or perhaps other issues at school, Silvis directs them to take those concerns to the building principal.
"You have to go through the proper channels," she said.
She has been on the board the past 10 years. She is proud of Holley's transformed school campus and push for academic excellence.
"On the school board I promote communication and awareness," she said. "The biggest challenge is the budget and that hasn't got any easier in the past 10 years."
In addition to the panel discussion about challenges in public education locally, Leadership Orleans toured Medina's school campus, which is undergoing a $34 million capital project.
The day started at GCC's campus center in Medina where there was a panel discussion about alternatives and supports to public education. Speakers included Danielle Douglas, adolescent outreach program coordinator for the Brockport Migrant Education Program; Melinda Grimble, continuing education instructor for the Orleans-Niagara BOCES; and Cynthia Blosenhauer, program director for the Orleans County Adult Literary Services.
Leadership Orleans also toured and met with students at the Iroquois Job Corps in Shelby, and also toured the Orleans-Niagara Education Center in Medina, where BOCES offers career and technical programs.