Local quilt business part of WNY tour of 17 shops
Town and Country Quilt Shop opened in downtown Albion in October 2017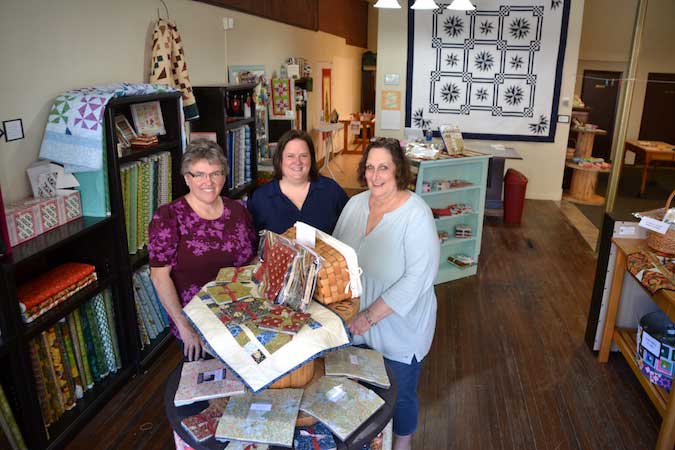 ALBION – The Town and Country Quilt Shop is one of 17 quilt shops in the Buffalo and Rochester area that will be part of a tour of quilt businesses the next two weeks.
Pictured form left include Irene Henion, a teacher at Town and Country; Tara Thom, owner of the business; and Brenda Radzinski, another teacher.
"It generates enthusiasm for quilting," Thom said about the Great New York Shop Hop.
Town and Country is the only stop on the tour in Orleans County. Visitors are encouraged to see all 17 shops in the next two weeks. The more shops they visit, the better their chances for winning prizes. The grand prize is more than 50 yards of fabric. There are other prizes with baskets of "quilting goodies."
Thom is happy the tour falls within the Strawberry Festival, which is on Friday and Saturday.
"I can't wait to show visitors from near and far what my town has to offer, and I am overwhelmed and humbled by the tremendous support this community has given me," she said.
Thom opened her store on East Bank Street in Albion in October 2017, after running the business for 15 years out of her home on Ridge Road.
Her shop is one of the few in WNY that is in a historic downtown business district.
She said the business has grown since coming to the downtown. She was joined today in the shop by part-time instructors, Irene Henion and Brenda Radzinski. They offer classes for beginners to advanced. There also are craft classes where no sewing is required.
Town and Country also hosts an "open sew" on the third Wednesdays each month.
"It's the community of quilters coming together and sharing time," said Henion, a retired Latin teacher at Albion Central School.
Radzinski is retired from the Orleans County Department of Social Services.
Other shops on the tour are located in Amherst, Williamsville, East Amherst, Niagara Falls, Lockport, Brockport, Hilton, Eden, East Aurora, Arcade, Perry Center, York, Caledonia, Fairport and East Rochester.