Local law enforcement will increase DWI patrols during July 4th weekend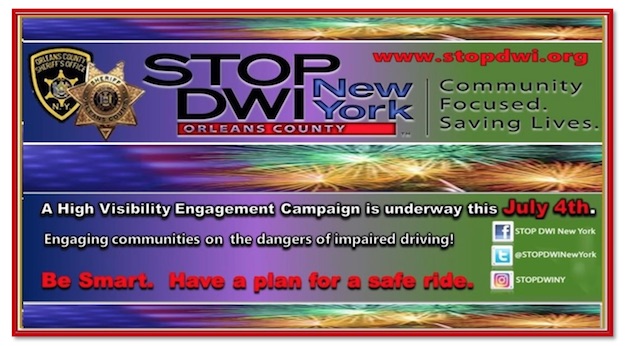 Press Release, Orleans County Sheriff Chris Bourke
ALBION – Orleans County Sheriff Christopher M. Bourke, who is the county's STOP-DWI coordinator, announced that local law enforcement agencies will actively participate in the STOP-DWI July 4th High Visibility Engagement Campaign from July 2 to July 5.
As summer is in full swing, July 4th is one of the busiest travel holidays of the year. With the increase in traffic on our roadways comes an increase risk in crashes, including impaired-driving crashes.
Law enforcement agencies and local STOP-DWI programs will collaborate across the state and will be out in force in this coordinated effort to reduce the number of impaired driving-related injuries and deaths.
People who are impaired are encouraged to plan a safe way to get home. They can call for a ride from a sober friend/family, taxi or Uber.
The STOP-DWI High Visibility Engagement Campaigns are promoted by New York STOP-DWI Association with additional funding from the Governor's Traffic Safety Committee and implemented by the STOP-DWI Foundation.