Local Covid cases went up dramatically in December
Nearly 3,000 cases reported during month in Genesee, Orleans and Wyoming counties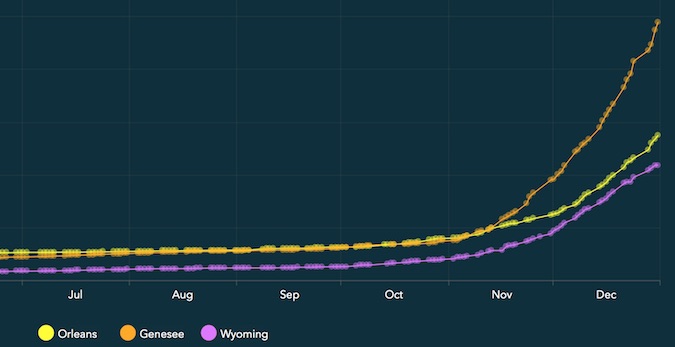 This graph from the health departments in Genesee, Orleans and Wyoming counties shows how the cases have surged recently. Click here to see a detailed chart on cases in the three counties. This graph shows Genesee nearing the 2,500-case marker, Orleans getting close to 1,500 and Wyoming over the 1,000 marker.
---
December saw the biggest surge in Covid-19 cases during the pandemic in the three local rural counties of Orleans, Genesee and Wyoming.
There were 2,993 cases reported in the three rural counties that combined have about 140,000 people. Before December, there were 2,108 Covid cases in the three counties – since March.
November was a big spike, too, when the 1,133 cases in the three counties were more than the total for all three counties the first eight months of the pandemic.
But December was something else entirely. Those 2,993 cases are nearly 60 percent (58.7) of the total of 5,101 cases in the three counties since March.
All three counties saw a major uptick in cases in December, with Genesee the hardest hit with 1,495 new cases and 22 deaths. Orleans was up by 753 cases and Wyoming by 745.
The three counties, from March through October, had 975 Covid cases combined. At the end of November, the combined cases was at 2,108 and is now at 5,101 after Dec. 31.
Orleans was the hardest hit by Covid in cases – before November. In Orleans the cases were driven by an outbreak in the spring at two nursing homes, which combined had 147 cases by late June. In Late October, Orleans had the most of the three counties with 399 cases, followed by 375 in Genesee and 201 in Wyoming.
But the cases have really taken off in Genesee in November and December. Genesee has had 2,070 Covid cases the past two months.
Here is a monthly breakdown of the Covid cases and deaths in the three counties.
Orleans County (population: 40,352)
First case reported on March 18.
March – 6 cases, 0 deaths (6 cumulative cases, 0 deaths)
April – 89 cases, 11 deaths (95 cumulative, 11 deaths)
May –  126 cases, 25 deaths (221 cumulative, 36 deaths)
June – 45 cases, 18 deaths (266 cumulative, 54 deaths)
July – 10 cases, 1 death (276 cumulative, 55 deaths)
August – 12 cases, 0 deaths (288 cumulative, 55 deaths)
September – 29 cases, 0 deaths (317 cumulative, 55 deaths)
October – 82 cases, 0 deaths (399 cumulative, 55 deaths)
November – 224 cases, 2 deaths (623 cases cumulative, 57 deaths)
December – 753 cases, 5 deaths (1,376 cases cumulative, 62 deaths cumulative)
---
Genesee County (population: 57,280)
First case reported on March 17
March – 13 cases, 1 death (13 cumulative cases, 1 death)
April – 136 cases, 2 deaths (149 cumulative, 3 deaths)
May – 37 cases, 1 death (186 cumulative, 4 deaths)
June – 40 cases, 1 death (224 cumulative, 5 deaths)
July – 32 cases, 0 deaths (256 cumulative, 5 deaths)
August – 23 cases, 0 deaths (279 cumulative, 5 deaths)
September – 30 cases, 0 deaths (309 cumulative, 5 deaths)
October – 66 cases, 0 deaths (375 cumulative, 5 deaths)
November – 579 cases, 2 deaths (954 cumulative, 7 deaths)
December – 1,495 cases, 22 deaths (2,449 cumulative, 29 deaths)
---
Wyoming County (population: 40,085)
First case reported March 17
March – 8 cases, 1 death (8 cases cumulative, 1 death)
April – 60 cases 4 deaths (68 cases cumulative, 5 deaths)
May – 12 cases, 0 deaths (80 cases cumulative, 5 deaths)
June – 9 cases, 0 deaths (89 cumulative, 5 deaths)
July – 18 cases, 0 deaths (107 cases cumulative, 5 deaths)
August – 12 cases, 0 deaths (120 cases cumulative, 5 deaths)
September – 12 cases, 0 deaths (132 cases cumulative, 5 deaths)
October – 69 cases, 0 deaths (201 cases cumulative, 5 deaths)
November – 330 cases, 3 deaths (531 cases cumulative – including 87 inmates in state prisons – 8 deaths)
December – 745 cases, 11 deaths (1,276 cases cumulative, including 142 inmates at state prisons, 19 deaths)
Source: Orleans Hub research, local health departments for cases and deaths, Census Bureau 2019 estimates for population