Local authors create new children's books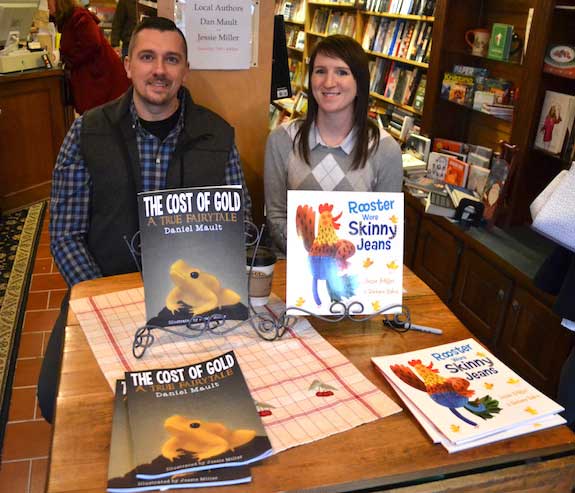 MEDINA – The Book Shoppe in Medina hosted two local authors for book-signings on Saturday.
Daniel Mault, left, is the author of The Cost of Gold, A True Fairytale. Jessie Miller, right, illustrated that book and also wrote her own book, Rooster Wore Skinny Jeans.
Mault lives in Cheektowaga and is a third grade teacher at Roy-Hart. His book tells the story of two children, Maggie and Henry, who meet a golden frog, which grants their wish to live in a castle and be royalty. However, they miss their family that they were forced to leave behind.
"This fairytale will leave you thinking about what really matters in life, and open a dialogue with children about what they cherish most in their lives," according to a review on Amazon. Click here for more information.
Miller, 28, is a 2007 graduate of Medina High School who works as a freelance illustrator. She earned an animation degree at Edinboro University.
Her book is about a rooster that wears skinny jeans, despite some ridicule from its friends.
"It's about not being afraid to be yourself," she said.
For more on her book, click here.