Local artist finds painter's box of late Nunzio Maiorana which will go to new art center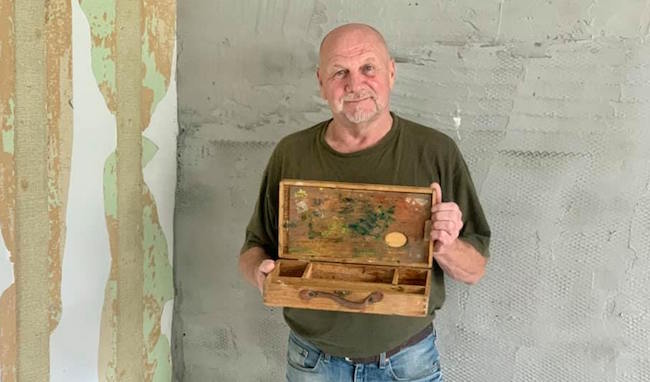 Photos courtesy DeSales Catholic School
LOCKPORT – Arthur Barnes, an Orleans County artist, donated a painter's box of late Nunzio Maiorana to DeSales Catholic School in Lockport, which will be opening a new art center next month as a memorial to Maiorana.
Barnes found the painter's box at a yard sale years ago. He used the box in his own art studio.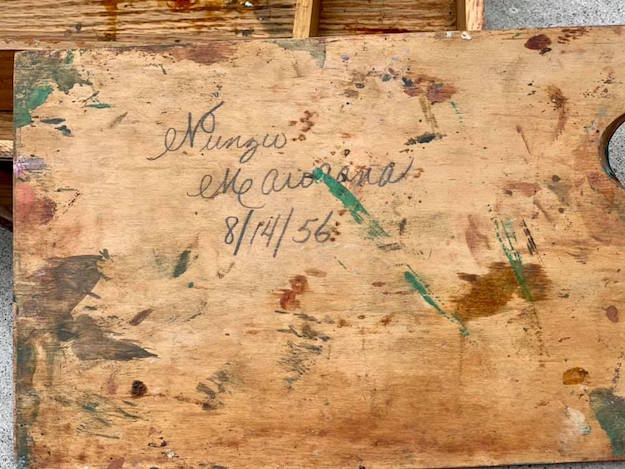 Barnes noticed the signature inside, Nunzio Maiorana (dated Aug. 14, 1956) and resolved to someday find and give the painter's box to Maiorana's family.
Barnes read about construction at DeSales for the Nunzio T. Maiorana '58 Art Center and wanted to give the box to the site. DeSales reached out to Nunzio's children, David and Ann-Marie, to return the box.
"Thank you, Arthur for bringing us this most wonderful gift!" said Kim Knuutila of DeSales.
The dedication for the Nunzio T. Maiorana Art Center will be on Saturday, Oct. 16th, from 1 to 3 p.m. at DeSales, 6914 Chestnut Ridge Rd., Lockport. Guests will have to RSVP to Mary at (716) 870-4340 by Oct. 4th.  Ribbon cutting will be immediately followed by dedication and reception.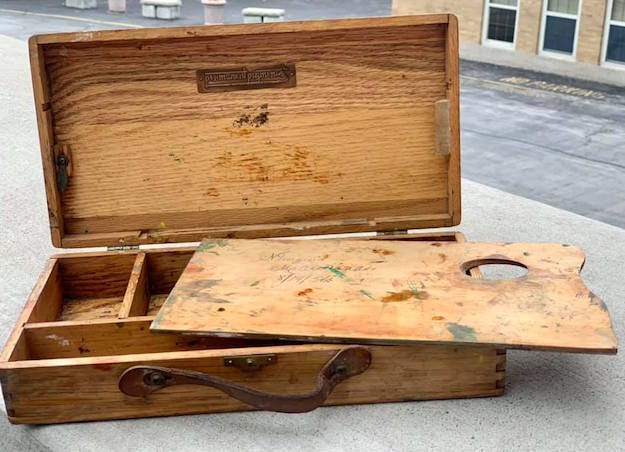 Maiorana was a long-time Medina educator. He was a popular teacher and school administrator at Medina as well as the athletic director.
DeSales Catholic School is renovating an area on their campus to create the Nunzio Maiorana Art Center, in honor of a beloved alumnus who graduated from DeSales in 1958.
Maiorana was a highly respected leader in both education and athletics throughout Niagara and Orleans counties.
He was also an accomplished self-taught artist who specialized in pen and ink drawings of historic lighthouses and buildings from across the world. Each of his drawings was hand-drawn using jeweler's glasses and each art piece contained over 500,000 fine lines and dots. He won his first art show in 1957 sponsored by the Lockport Industrial Management Club.
After graduating from DeSales High School, Maiorana went on earn his Bachelor's degree at the University of Detroit.  He began his teaching career at the Diocese of Detroit at St. John Berchmans School. In 1963 he came back home to WNY to teach at Medina Senior High School.
This was followed by multiple roles throughout his tenure in Medina starting as a teacher and retiring as superintendent of curriculum and finance. He started in Medina in the fall 1963. His career spanned over 36 years until his retirement in 1998.
At Medina, Maiorana taught pre-vocational studies, English, and history; served as an assistant high school football coach, assistant principal, director of athletics, director of maintenance, grounds, and transportation; principal of Wise Middle School; and superintendent of curriculum and finance. He also sat on state and national committees for athletics and academics to ensure safety, wellness, and rigorous academic instruction for all students.
He remained an influential educator up until the day he passed away on Jan. 22, 2018.