Lisa's Dance Boutique celebrates 40 years in Holley
HOLLEY – Lisa Bower-Logsdon was 15 when she started her dance studio in the basement of the former St. Mary's School, using a portable record player.
She ran Lisa's Dance Boutique out of the St. Mary's hall and then the Presbyterian Church before buying a building in the Public Square in 1991. Lisa's has been there since, and remains a popular dance studio with 250 students from Holley, Kendall and Albion, with some also from Brockport and Spencerport.
Lisa's students frequently win awards at the talent competition at the Orleans County 4-H Fair and are perennial contenders at the State Fair, winning the overall title in 2006.
"I love to dance and I love the children," Bower-Logsdon said before today's 1 p.m. recital. "It's my passion."
In addition to running the business, Lisa teaches 10 of the classes. Other teachers include Alana Bilohlavek, Lora Bower, Malia Frederick and Heather Kelley.
Heather Kelley has been a part of Lisa's for 36 of the 40 years. Kelley, 38, was a student at Lisa's, and has been a teacher for the past 20 years.
"She cares about her students and the families," Kelley said.
Lisa is also very detailed oriented, and that is one reason why her students perform so well, Kelley said.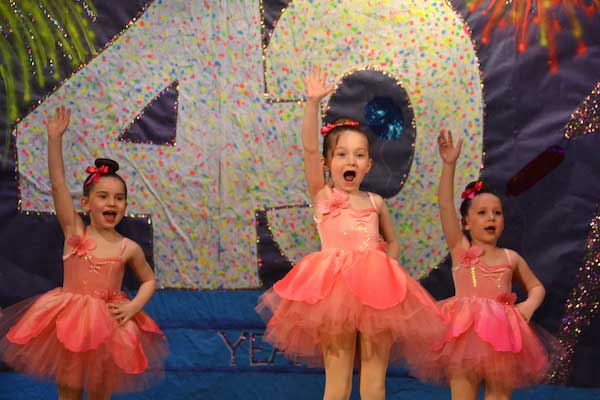 These young dancers perform "Buzz Off" during today's recital 1 p.m. The 40th anniversary recital includes 40 different acts and will be back on stage later today at 7 p.m.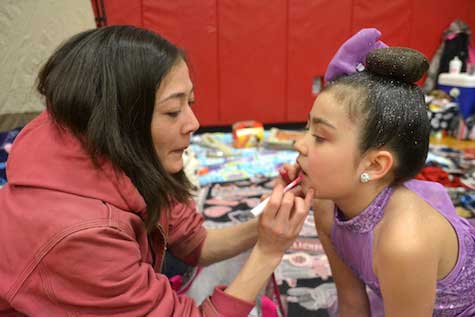 Kim Goldsworthy of Brockport helps her daughter, 8-year-old Skylar Gallagher, get ready for today's recital. Goldsworthy took dance lessons when she was a kid from Lisa Bower-Logsdon. Heather Kelley also was Goldsworthy cheerleading coach.
"It's like a whole big family here," she said."It's all very well organized. They're learning technique. They grow so much here."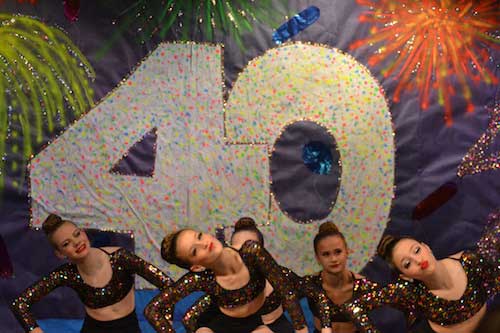 This group performed "Me Too" in front of a set design celebrating 40 years for Lisa's.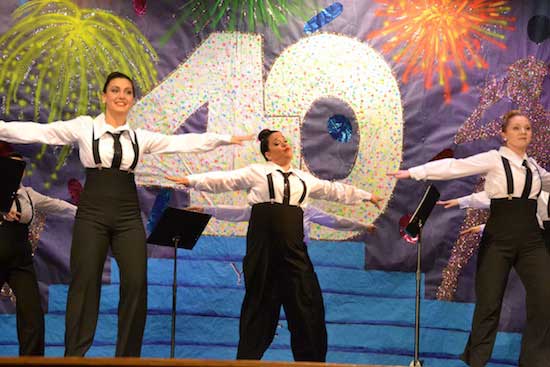 These dancers, including Heather Kelley (center), opened today's recital. Kelley has worked as one of the Lisa's dance instructors for the past 20 years.
Lisa's Dance Boutique donates proceeds from the recitals back to the school district. Bower-Logsdon said that is usually about $4,000 annually, plus concessions revenue. She estimated Lisa's has contributed $125,000 to the district in the past 40 years.
Today's recital was dedicated to Bower-Logsdon's parents, George and Sandy Bower, and all the other dedicated grandparents who support the dancers at Lisa's.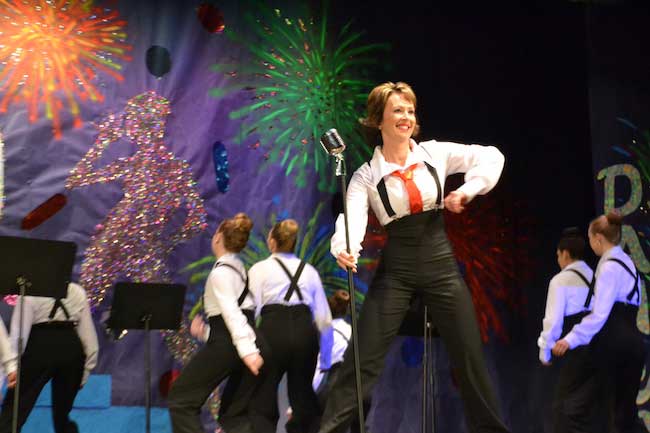 Lisa Bower-Logsdon for many years danced in one of the acts at the annual recital. She stopped doing that after she turned 50. But for the 40th anniversary celebration, Bower-Logsdon, 55, decided to be a part of the opening number.