Lions youth organizations purchase $1,300 of food for local ministries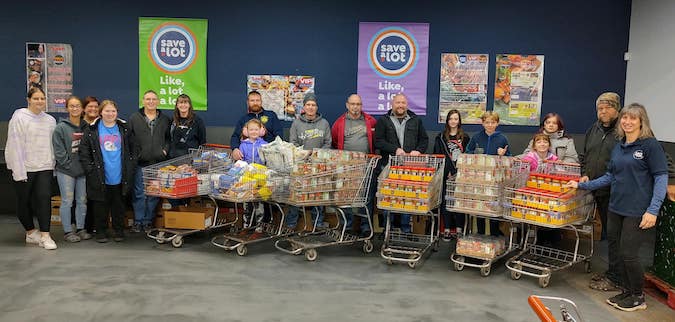 Provided photos
ALBION – A $1,300 grant from the Lions Club allowed the Leos student clubs in Albion and Lyndonville to purchase $1,300 of food to be shared with Hands 4 Hope, Orleans Koinonia Kitchen in Albion and the Royal Body Shop Outreach Ministries. The Leos, Lions Club members and leaders from the three ministries went shopping on Tuesday at the Save A Lot in Albion to purchase the food.
Pictured from left include Hannah Marker with Lyndonville Leos; Alyssa Prime with Lyndonville Leos; Brianna Smith with Lyndonville Leos; behind them is Gina Marker, Lyndonville Leos advisor; Mike and Faith Smith with Orleans Koinonia Kitchen; Jake Stinson, Albion Leos advisor; Amber Stinson of Albion; Kevin Lemcke with Hands 4 Hope; Jack Burris with Hands 4 Hope; Dan Conrad, regional chair of the Leos; Isla Deboard with Albion Leos; Liam Matthews with Albion Leos; Freedom Matthews with Albion Leos; Alexis Stinson of Albion; Jeff Holler with Royal Body Shop Outreach Ministries; and Dora Leader with Albion Save A Lot.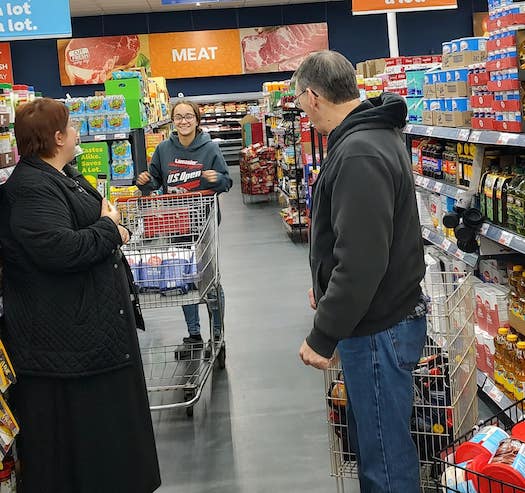 Alyssa Prime, center, pushes the shopping cart while joined by Gina Marker, Leos Club advisor in Lyndonville, and Mike Smith, one of the leaders of the Orleans Koinonia Kitchen.
The Koinonia Kitchen serves meals to the community every Thursday at Harvest Christian Fellowship at 560 East Ave.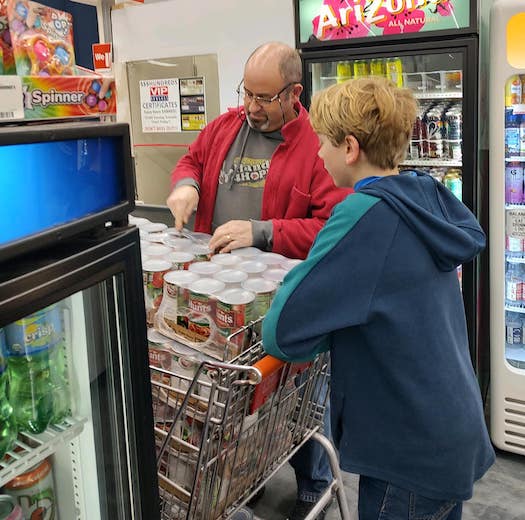 Liam Matthews of Albion joins Jack Burris of Hands 4 Hope at the checkout line after they filled carts with spaghetti sauce and peanut butter. Hands 4 Hope goes to different locations in the county each Saturday offering food, clothing and prayers.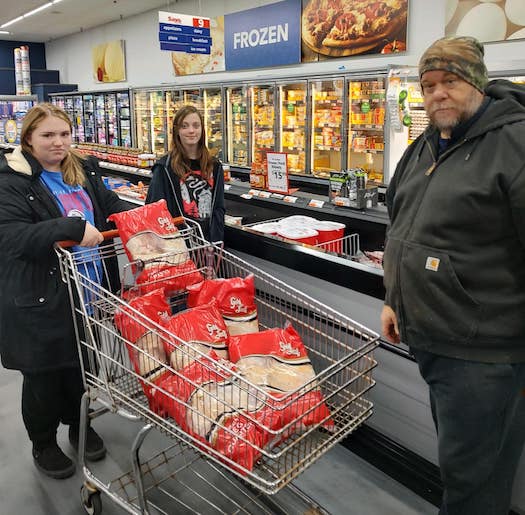 Jeff Holler, right of the Royal Body Shop Outreach Ministries, is joined by Brianna Smith of Lyndonville and Isla DeBoard of Albion. The Royal Body Shop runs a food ministry in Albion, including a community refrigerator outside Arnold's Auto Parts at 116 North Liberty St.