Libraries kick off summer reading program

'Build a Better World' is theme of 6-week challenge
Photos by Tom Rivers
The local public libraries in Orleans County, as well as the state and nation, have kicked off the annual summer reading challenge with a theme: "Build a Better World."
Hoag Library in Albion promoted the reading challenge with this float during the Strawberry Festival Parade on June 10. The library had help from the Albion FFA chapter with the display.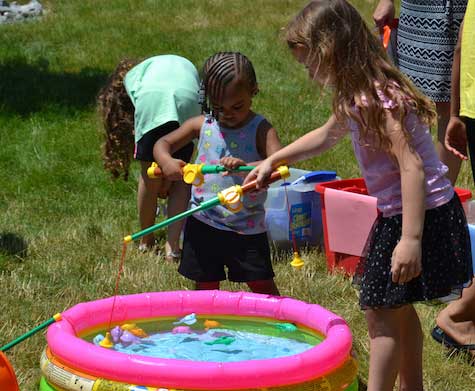 Hoag also had a kick off celebration on Saturday with games, free hot dogs and other activities. The library will have an all-day signup for the reading challenge today, and will welcome a children's choir from Uganda for a performance at 6 p.m. today.
Hoag has daily activities to promote building a better world, including many hands-on activities, including building birdhouses on Wednesday and programming Lego robots on Friday. Many community members also will be guest readers for story times during the summer. (Orleans Hub editor Tom Rivers will do the story hour on July 26 at 11 a.m.)
The Grigg Lewis Storytellers will also be at Hoag every Thursday with activities to help children understand the world and see how objects and construction work. This Thursday's challenge at 3 p.m. will include a competition for children to build the longest, strongest and highest bridges.
Click here to see the summer reading challenge schedule at Hoag.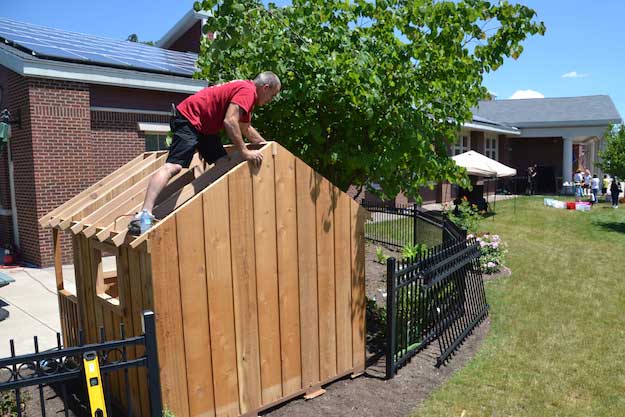 Jim Babcock works on building a playhouse at the library on Saturday. For every book read this summer during the reading challenge, children will get a ticket for a chance to win the playhouse. The drawing will be on Aug. 3. Babcock will help children build birdhouses on Wednesday at 10 a.m.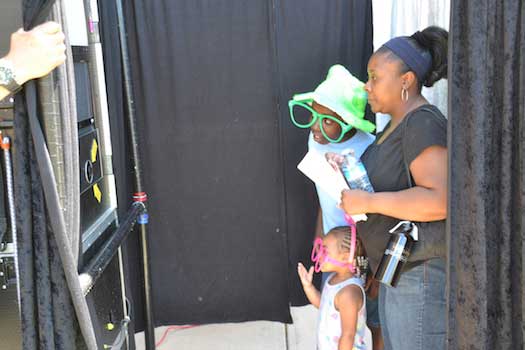 Anitrice Bennett, a trustee for Hoag Library, goes into the photo booth for silly pictures on Saturday with her son, Jordan Marshall, and niece, Gabriella Romig.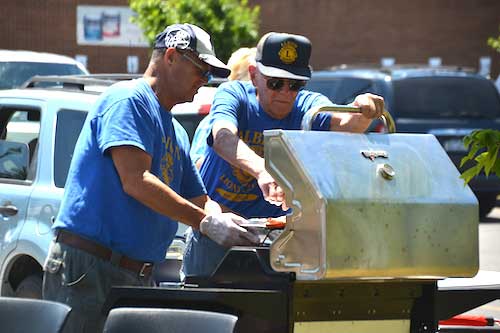 Lions Club members Kevin Howard, left, and John Keding served free hot dogs on Saturday to kick off the reading challenge.
Other libraries are also participating in the reading challenge.
Click here for more information from Community Free Library in Holley.
Click here for more information on Yates Community Library in Lyndonville.
Click here for more information on Lee-Whedon Memorial Library in Medina.