Leonard Oakes welcomes 810 Meadworks to tasting room
Bryan DeGraw is hopeful he will start making mead at Leonard Oakes in early 2023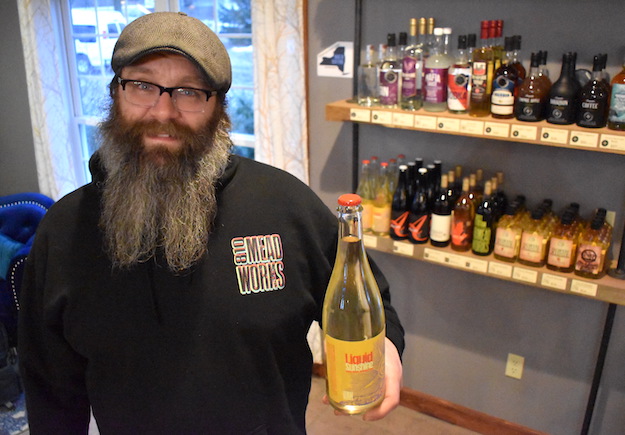 Photos by Tom Rivers
MEDINA – Bryan DeGraw, co-owner of 810 Meadworks, holds a bottle of Liquid Sunshine, one of five different meads available at Leonard Oakes Estate Winery on Ridge Road.
Friday was a launch celebration at Leonard Oakes in welcoming 810 Meadworks to the tasting room at 10609 Ridge Rd.
810 Meadworks was part of downtown Medina for eight years. It closed its tasting room and also an ax-throwing range on Sept. 22 at 113 West Center St. DeGraw said the business's insurance tripled in price, making it unaffordable to operate.
Several wineries in the region didn't want to see Meadworks go. Leonard Oakes was among several that reached out to DeGraw to sell the mead and also make the product.
DeGraw is thrilled 810 Meadworks will continue and remain in the Medina community, where he and his wife Larissa make their home with two children. The DeGraws own Meadworks along with Tim Elliott.
"This is the community I belong in," DeGraw said on Friday, just before the tasting room celebration from 5 to 7 p.m. "I didn't want to uproot. I can keep my business alive and partner with Leonard Oakes."
DeGraw said Meadworks is working to move its production equipment to Leonard Oakes. That includes five 200-gallon fermentation tanks, eight 60-gallon drums, and other barrels and equipment.
The mead production will be separate from Leonard Oakes, which has its own equipment for producing wine and Steampunk Cider.
DeGraw said Meadworks is waiting on final approval from the State Liquor Authority to allow Meadworks to produce mead at the Leonard Oakes location.
"I'm thankful to keep going," he said. "Leonard Oakes made that possible."
DeGraw also said the new arrangement will give him more time to focus on producing mead, which is his passion. He was spending a lot of his energy running the tasting room at Meadworks, with day-to-day pressure to keep the bar stocked.
"This will give me more freedom," he said.
He already has one new mead coming in 2023: a mead made with mulberry.
Right now, Leonard Oakes is carrying five of Meadworks most popular meads: Liquid Sunshine (lavender lemonade with mead), Scarlet A (apple cranberry mead), Raisin d'Etre (cinnamon raise aged in a bourbon barrel with amber honey), Maple Tap (mead with maple syrup, cinnamon nutmeg and vanilla) and Sweet Devotion (black currants, rose petals, black tea, oil of bergamot and local honey).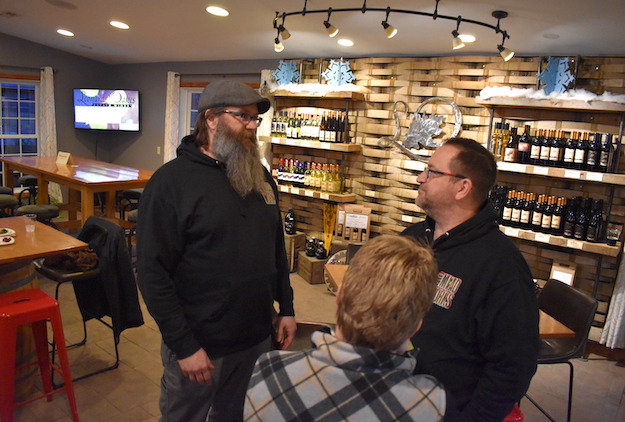 Bryan DeGraw speaks with two passionate Meadworks customers, George and Mary Jo Harris of Barker. They have been loyal Meadworks customers for about five years. They said they are thrilled Meadworks and Leonard Oakes will be teaming up.
The Harris couple said Meadworks was a destination that made them discover other sites in the community. They used to go to Buffalo for most of their outings, but now come to Medina and Batavia.
"Meadworks was like a second family," Mary Jo said. "Bryan makes enough different styles that there will be something for everyone."
When DeGraw posted on Facebook on Sept. 22 that the business would be closing, there was a big reaction from customers, who didn't want to lose Meadworks. Many bought bottles of mead and gave the business a lifeline.
They encouraged the owners to try to find a way to keep going.
"The response that day I can't express how thankful I am," DeGraw said about the customer reaction on Sept. 22. "The outcry was bigger than I thought it would be."
Cat Holland, the retail manager at Leonard Oakes, is pleased to welcome 810 Meadworks to the tasting room. Leonard Oakes has other products made in New York, including fruit brandy from North Ridge Distillery in Medina.
She is hopeful to do tastings and event with DeGraw as a host, explaining how he makes the different meads. She knows Meadworks will also bring in a passionate customer base.
"It makes sense to offer more for everyone," she said. "It was a no-brainer. He's local and we've had a very good working relationship with him."