Legislators recognize volunteers for veterans' van service
Joint Veterans Council has run the all-volunteer program for 25 years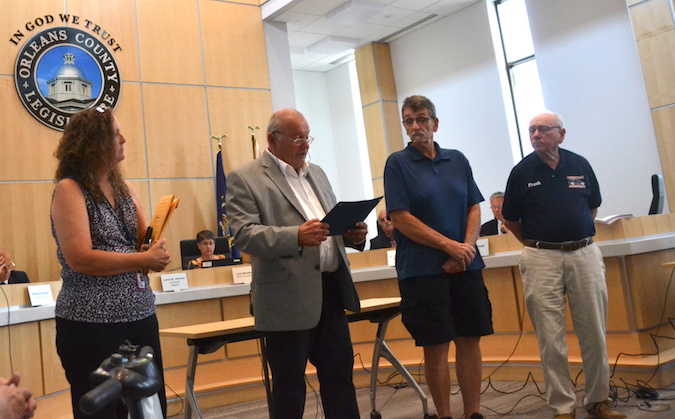 Photos by Tom Rivers
ALBION – The Orleans County Legislature on Wednesday presented certificates of appreciation to volunteers for the veterans' van service, a program that has been providing rides to veterans to their medical appointments the past 25 years.
The top photo shows County Legislator Fred Miller, second from left, praising volunteers in the program, including Ralph Clute (second from right) and Frank Panczyszyn. Nancy Traxler, director of the Veterans Service Agency in Orleans County, is at left. Klute is a driver for the program and also helps in the office. Panczyszyn is a driver.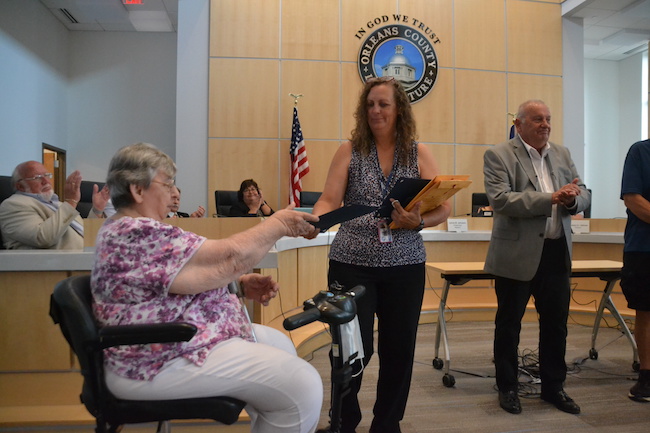 Helen Bilicki, left, also was recognized for her years of service in the office, helping to schedule drivers for veterans' medical appointments. The program is run by the Joint Veterans Council.
There are currently about 25 volunteers with the program, which operates five vans. The program typically takes veterans to about 1,500 appointments a year. The service was shut down by the VA from April through June 2020, and then it gradually ramped back up.
The volunteers took veterans to 542 appointments from Jan. 1 through July 31 this year.
There will be a reception for the volunteers today at the Shelby fire hall from 11 a.m. to 2 p.m.