Legislators recognize Domestic Violence Awareness Month, Sheriff's Week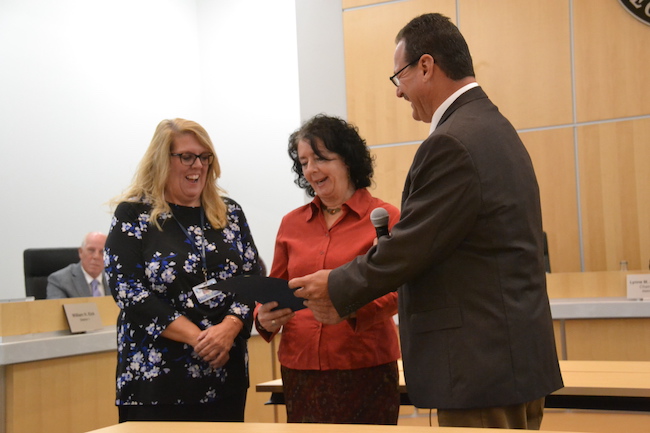 Photos by Tom Rivers
ALBION – Orleans County Legislator John Fitzak, right, presents a proclamation last week about "Domestic Violence Awareness Month" to Teresa Zwifka, director of social services (left), and Holli Nenni, department of Social Services commissioner.
The proclamation states that while 90 percent of domestic violence cases go unreported, there were 299 cases reported to the Orleans County Domestic Violence Unit in 2021, and 278 reported cases of domestic violence so far this year from January through September.
"Domestic violence is a pattern of coercive behavior that may include physical, emotional, psychological, economic, or sexual abuse, perpetrated by an intimate partner over another, to establish and maintain power and control," legislators said in the proclamation.
"Domestic violence is a serious crime that affect people regardless of socio-economic status, race, ethnicity, age, gender, education, employment status, physical ableness, marital status, or childhood history."
Domestic violence is a major cause to women, resulting in more injuries to women then auto accidents, muggings and rapes combined, the proclamation states.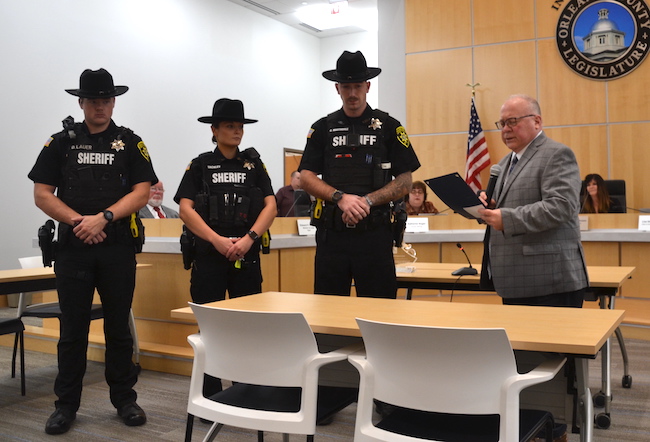 County Legislator Skip Draper, right, presents a proclamation about "Sheriff's Week" to three new deputies in the Sheriff's Office. Pictured from left include David Lauer, Savannah Tackley and Cory Martindale. Sheriff's Week was Sept. 18-24.
"The Office of Sheriff has been an integral part of the criminal justice system in New York State and in Orleans County throughout our history, having been established in the State's first constitution in 1777 and having been continued in every succeeding constitution, and having been one of the original constitutional offices of our County," legislators stated.
"The Office of Sheriff has evolved into a modern, professional, full-service law enforcement agency, manned by fully trained police officers, using state-of-the-art technology, and applies the latest and most advanced theories and practices in the criminal justice field," the proclamation states.