Legislators praise retiring county judge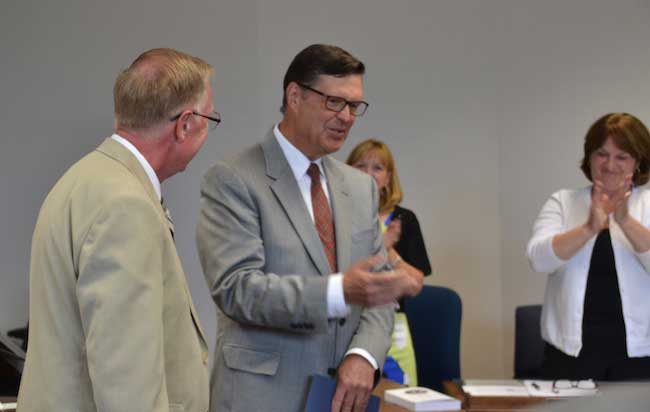 Photos by Tom Rivers
ALBION – The Orleans County Legislature this afternoon presented a Special Recognition Award to James Punch, who is retiring Friday after nearly 27 years as Orleans County Court judge.
Punch accepted the award from Legislature Chairman David Callard, left.  The judge received a standing ovation and applause from the legislators and others at the meeting, including Clerk of Legislature Nadine Hanlon, back left, and County Treasurer Susan Heard.
Prior to being elected judge, Punch served as the district attorney for nearly five years.
"Through your extreme professionalism serving as our County Judge and as our past District Attorney, our county has benefitted from your extensive knowledge and service," legislators stated on the certificate. "Your pledge to protect Orleans County and beyond is widespread and long lasting. The Orleans County Legislature does hereby wish you success and happiness in all of your future endeavors, along with thanking you for your allegiance to the county you were raised in."
The award is signed by legislators David Callard, Don Allport, John DeFilipps, Lynne Johnson, Fred Miller, Bill Eick and Ken DeRoller.
Punch grew up in Medina and graduated from Medina High School in 1973. Callard said he remembers the judge as a kid riding around the community on his bike.
Punch is retiring on July 29. His final court sessions will be on Friday.
"It has been an honor to serve," Punch told legislators. "I'm proud of the county and I'm proud of the Legislature."
He praised the Legislature and county officials for moving forward with an addition to the historic county courthouse a decade ago that made the building handicapped accessible, allowing it to continue to be used for a courtroom and for offices.
"That preserved what I think is the most beautiful courtroom in Western New York," Punch said.
He also praised the Department of Social Services, Probation and the Mental Health Department for their work trying to help families in crisis.
In addition to leading County Court, Punch also has served as judge for Family Court, Surrogate Court, and Supreme Court, as well as judge for Drug Court and Domestic Violence Court.
"We have an awful lot to be proud of in this county and a lot of it is what you do in this Legislature," Punch said.