Legislators issue proclamations about child support awareness, importance of probation work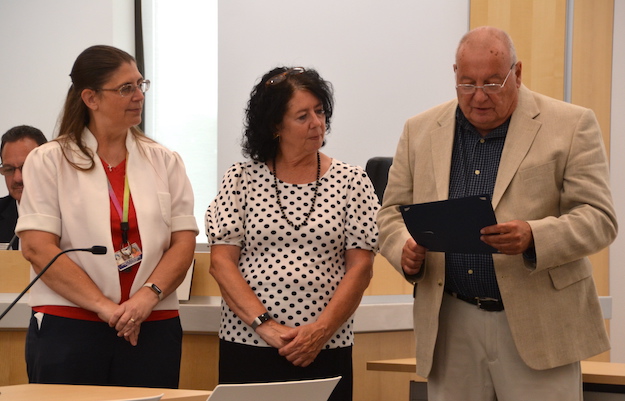 Photos by Tom Rivers
ALBION – Orleans County Legislator Fred Miller, right, presents a proclamation during the July 27 County Legislature meeting to Janet Cheverie, left, the county's child support coordinator and Holli Nenni, the Department of Social Services commissioner, declaring August as "Child Support Awareness Month."
"Parents have an obligation to support their children, financially and emotionally," county legislators stated. "Studies have shown that when both parents provide financial and emotional support, children are less likely to engage in unhealthy ad unproductive behaviors and are more likely to do well in school and succeed later in life."
Legislators said the county Department of Social Services has a child support enforcement program and other child support professionals who work with parents to provide economic security for their children.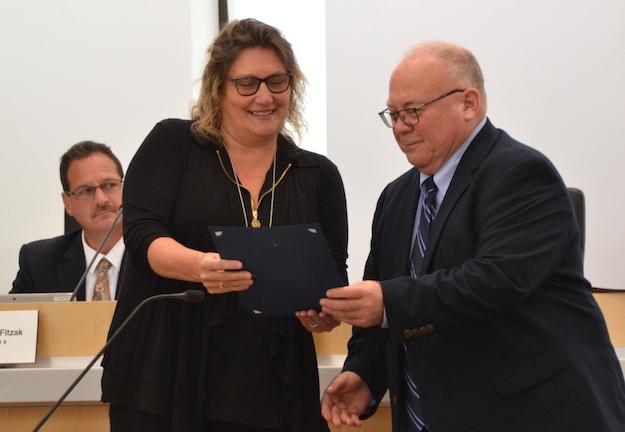 County Legislator Skip Draper also presented a proclamation to Probation Supervisor Sarah Osbourne which recognized July 17-23 as "National Pre-Trial, Probation and Parole Supervision Week." Legislators urged residents to recognize the work of those in community corrections who "uphold the law with dignity, while recognizing the right of the public to be safe-guarded from criminal activity."
Community corrections professionals are responsible for supervising adult and juvenile offenders in the community, often working in partnership with community agencies and groups. They promote prevention, intervention and advocacy, legislators stated in the proclamation.
"Community corrections professionals provide services, support and protection for victims," legislators said. "Community corrections professionals advocate community and restorative justice."
---
Legislators also agreed to allow the courthouse to be illuminated in purple from Aug. 21 to Sept. 3 to recognize opioid overdose awareness.