Lee-Whedon director retires after 33 years at Medina library
Kristine Mostyn, assistant director the past 10 years, is the library's new leader
MEDINA – Catherine Cooper has retired after 33 years of service to Lee-Whedon Memorial Library.
Cooper worked 23 years as assistant director and the past decade as the director. She led a renovation of the library, and pushed for public art projects, concerts and other events to bring in the community.
Lee-Whedon hired Kristine Mostyn as the new director. Mostyn has worked at the library for 10 years as the assistant director. Her vision for the future aligns with Mrs. Cooper's, the library said in a statement.
"Kristine will continue to expand programming and hopefully expand the building for more community space," according to the statement from the library today.
Cooper led several ambitious projects at Lee-Whedon. During a renovation completed in 2013, the library was emptied for a major overhaul.
The library closed for five weeks for the renovations. The library used to feel and look like a big long room all painted in the same color, a beige-yellow. The carpet was also one solid color.
"It was kind of blah," Cooper said during a previous interview with the Orleans Hub.
The project left the library full of color – on the walls and on the floor. The walls were painted green, blue and yellow. The carpet has circles and other designs to help delineate spaces in the library. The library also added many pedant lights that hang from the ceiling.
The project also replaced the ceiling, and added many new high-speed Internet access points and upgraded computer technology.
The renovation created a teen area with a divider with a big circle cutout for people to walk through into the teen space. That helps give teens the feeling of their own spot in the library.
Lee-Whedon opened the 11,000-square-foot library in 1966. The inside of the building didn't change too much for nearly a half century until the five-week construction project from Sept. 28 to Nov. 1, 2013. Cooper said that project, with internet connections in power chairs, brought Lee-Whedon into the 21stCentury.
Cooper wasn't done with making the site more appealing to the public. She pushed for art projects in the children's section, include an entrance that resembles a giant children's book. That book features many characters from children's books, such as Wilbur, the pig from Charlotte's Web.
Judith Villavisanis, an artist, created the giant book entrance in 2014.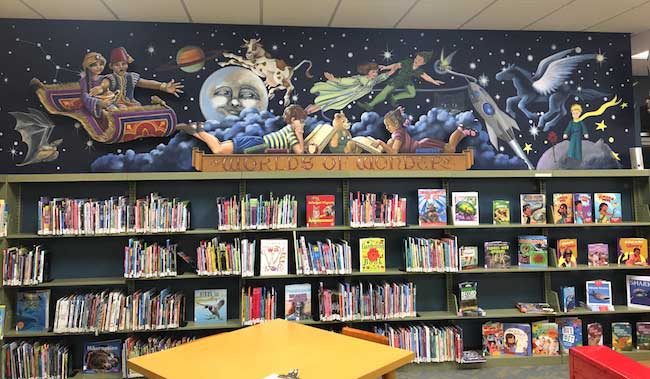 Villavisanis returned to Lee-Whedon to paint a new "Worlds of Wonder" mural in the children's section, finishing that project on the south wall in 2018.
Cooper for the past 19 years also coordinated the concert series, Finally Fridays! Those events typically brought in about 200 people on Friday evenings during the winter for live music performances.
Cooper, in her retirement, will stay active in the community as Ridgeway town historian. She also is an active member with the Tuesday Club and the Medina Historical Society.