Leading local merchants were part of Rotary 55 years ago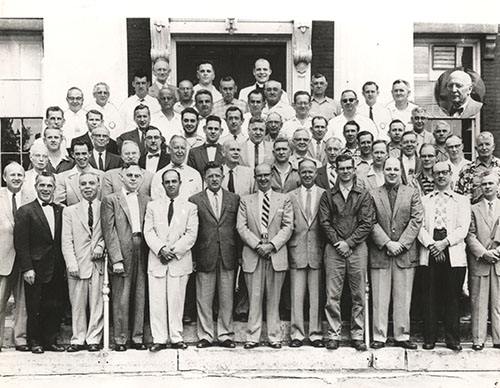 By Bill Lattin
Orleans County Historian
ALBION – This picture taken of the Albion Rotary Club in 1959 or 1960 is a literal Who's Who of local business men at the time. Although I knew most of these men, my thanks goes out to Brad Shelp for help identifying several faces in the photo.
Front row, from left: Bill Monacelli, teacher/mayor; Don Nesbitt, farmer; Charles Martina, theater owner; unidentified; Harlan Harvey; Wells Harrison, car dealer; Jacob Schanels, Hunt Canning Factory; Dr. Bob Raemsch, veterinarian; Guido Monacelli, food store; Dr. Thomas Orlando, dentist; and George Brunelle, insurance agency.
Second row: Hon. Charles Signor, county judge; Charles Byrne, Birdseye Lab; Franklin Cropsey, attorney; Stanley Landauer, dry goods; Richard Fenton, Bemis Bag; Bill Snowden, Firestone Store; Sidney Eddy, printing; Dr. James Parke, MD; Bob Babbitt, hardware; and Ed Archbald, farmer.
Third row: Brad Shelp, car agency; Neal Beach; Winton Hatch, Department of Labor; Thomas Heard Jr., Marine Bank; R.E. Greenlee, Hunts; Carl Bergerson, Albion Central School superintendent; Roland Kast, service station; Dr. John Ellis, MD; and Dr. John Jackson, dentist.
Fourth row: Bob Root, insurance; Thomas McNall, furniture/funeral director; Arthur (Dick) Eddy, printing; Richard Hollenbeck; "Skip" Landauer, dry goods; George LaMont, farmer; Richard Bloom, insurance; Bill Host, school administrator; Albert Raymond, insurance agent; Francis Blake Jr., cold storage.
Fifth row: Lee Morneau, Liptons; Lee Maine, lumber company; Leonard Depzinski, sign painter; Daniel Marquart, appliance store; Homer Marple, furniture; Ray Severns, auto sales; Sam Shelp, auto agency.
Sixth row: Roy Merrill, funeral home; Gordon Gardner, pharmacist; Walter Martin; James Lonergan, journalist; Henry Keeler, construction; Carlton Wilkinson, electrical store; John Merrill, funeral director; Harold Farnsworth; Rev. Earle Hamlin; Frank Sachali, produce; and Rev. Jack Hillary Smith.
Inset: Homer Luttenton, who was sick at the time.
Years ago the Rotary Club met for lunch at the Presbyterian Church and then later at the United Methodist Church. It was an easy walk across the street to gather on the front steps of the Orleans County Courthouse when this photo was taken. The Albion Rotary Club was founded on April 20, 1922 with 21 charter members who adopted the constitution of Rotary International.
(Editor's note: The Rotary Club now meets every Thursday for lunch at The Village Inn. Women were excluded from Rotary until a Supreme Court ruling in 1987 opened service clubs to women. Today, about 40 percent of the Albion Club's membership is women. Brad Shelp remains part of the club today. He has perfect attendance for more than 50 years.)