Leadership Orleans spends day learning about local government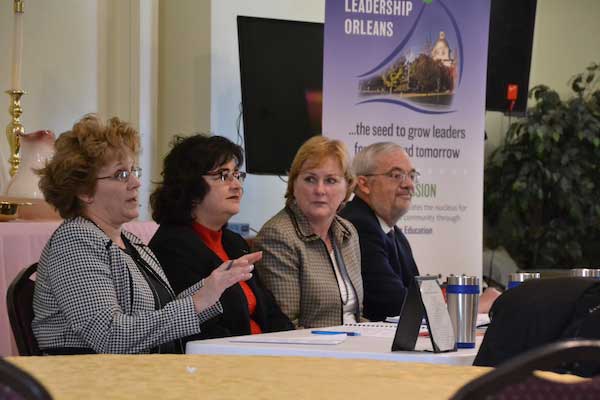 Photos by Tom Rivers
ALBION – The second class of Leadership Orleans met Thursday for their monthly session with a focus this time on local government.
The top photo shows a panel at lunch who discussed the local courts system. They include from left: Joanne Best, Orleans County public defender; Kathy Bogan, Orleans County attorney; Dawn Keppler, Shelby town justice; and Sanford Church, Orleans County judge.
The day included a visit to the Orleans County legislative chambers at the County Clerks Building, where the group was welcomed by Chuck Nesbitt, the county chief administrative officer.
Leadership Orleans then heard presentations and a panel discussion by State Assemblyman Steve Hawley; Lynne Johnson, Orleans County Legislature chairwoman; Brian Sorochty, Village of Holley mayor; and Dick Moy, Town of Clarendon supervisor.
Leadership Orleans spent the afternoon making site visits to the Albion Academy, which hosts the Meals on Wheels program and also has 30 apartments for senior citizens; the Orleans County Administrative Building, which includes many county offices; the Orleans County Public Safety Building; Holley Village Office; Village of Albion Water Treatment Plant; and the Orleans County Highway Department & Buildings and Grounds.
---
You're here checking the site, so you know: Orleans Hub is a vital resource for our community. Day in and day out, we share information and insights that matter to those who live and work in the towns, villages and hamlets of our county. Local advertisers help make the Hub possible, and so can you.

Donate today to keep Orleans Hub healthy and accessible to all. Thank you!
---