Law enforcement will increase DWI patrols on Thanksgiving holiday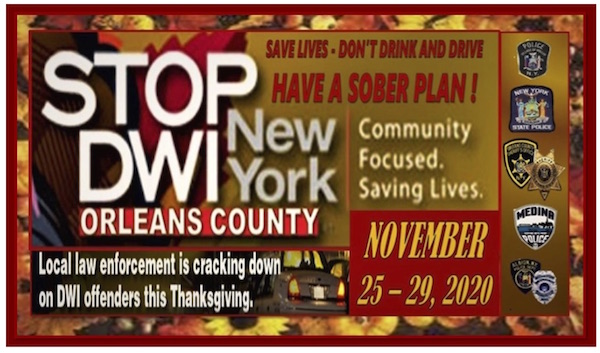 Press Release, Sheriff Chris Bourke
In an effort to keep our roadways safer during the Thanksgiving holiday, Orleans County law enforcement agencies are joining forces in a zealous effort to stop drinking and driving during a Thanksgiving DWI crackdown from Nov. 25 to Nov. 29.
As Thanksgiving Eve is one of the biggest drinking nights of the year, it is vital that law enforcement presence be at its peak on this night. People are encouraged to have a sober plan while traveling.
Although STOP-DWI efforts across New York have led to significant reductions in the numbers of alcohol-related fatalities, there are still too many lives lost due to DWI crashes.
You can help save lives, by not drinking and driving and having a sober plan for getting home.
Plan a safe way to get home.
Call for a ride from a sober friend, family member, taxi, public transportation, or Uber.