Lakeshore flood warning extended until Sunday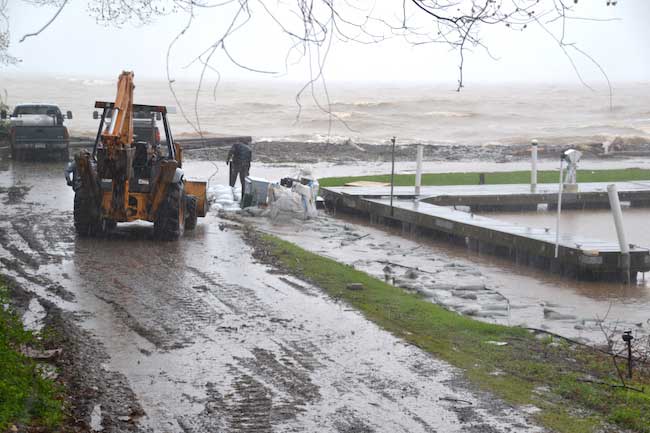 Photo by Tom Rivers
KENDALL – Bald Eagle Creek Marina works to get sandbags in place on Friday during a downpour. The marina is trying to protect its docks and land from the high waters.
A lakeshore flood warning, which expired at 2 a.m. today, has been extended to Sunday from 2 to 8 p.m., the National Weather Service in Buffalo said.
The flood warning was upgraded from a flood watch for Orleans and Niagara counties. The Weather Service said the high lake levels, plus moderate to strong northwest winds, will result in increased flooding and shoreline erosion.
The National Guard was in Kendall today working with volunteers and the Kendall Highway Department to fill about 3,000 sandbags.
Volunteers are welcome to assist the Highway Department beginning at 8 a.m. on Sunday. The group will work on the sandbags at the highway garage on Crandall Avenue.