Lake Plains Players ready for biggest show of the year
Cast of 24 will perform 'She Loves Me' Oct. 26-28
MIDDLEPORT – The Lake Plains Players are ready for their biggest show of the year, a full-production musical with a cast of 24, a stage crew and pit orchestra.
She Loves Me will be performed Friday through Sunday at the Roy-Hart High School Auditorium.
"This is an incredibly charming show with beautiful music," said director Gabrielle Montgomery.
The theme of the musical is familiar, similar to You Got Mail in 1998 with Tom Hanks and Meg Ryan.
In She Loves Me, Georg Nowack and Amalia Balash both work in the perfume shop. They are consistently at odds with each other at work. However, they are unaware they are pen pals, sending each other notes through lonely-hearts ads.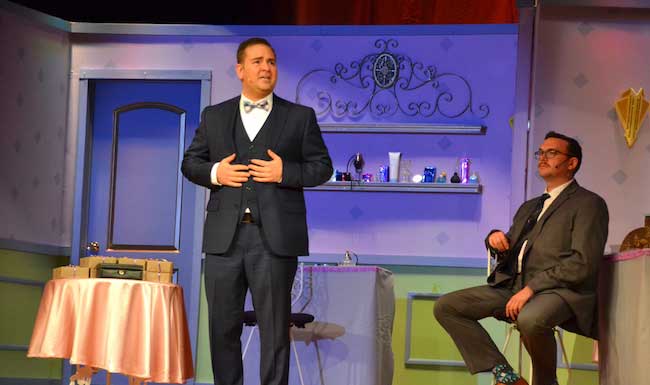 Jason Mussachio of Lockport plays the lead role of Georg Nowack, a shy assistant manager of the shop. Brian M. Wilson, right, is Ladislav Sipos, one of the salesman. In the LPP production, the characters keep their Hungarian names.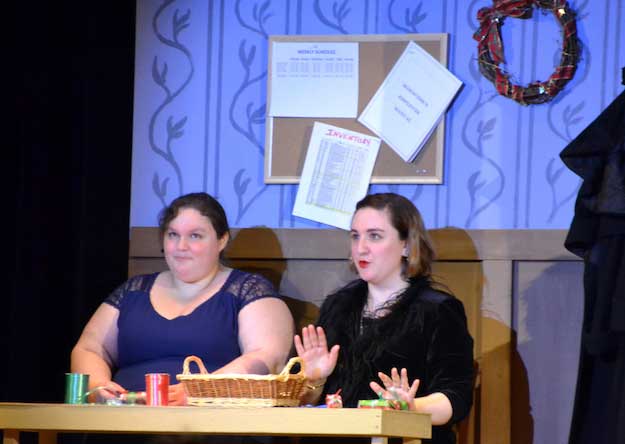 Sarah Hill, left, of Medina is Amalia Balash, who shares about her pen pal. Hilda Myer-Post, right, of South Buffalo plays Ilona Ritter.
Hill, 27, has been a regular in LPP productions the past five years, first performing in the group for Les Miserables in 2013.
"That changed everything for me," she said about that show. "It gave me a community to express myself."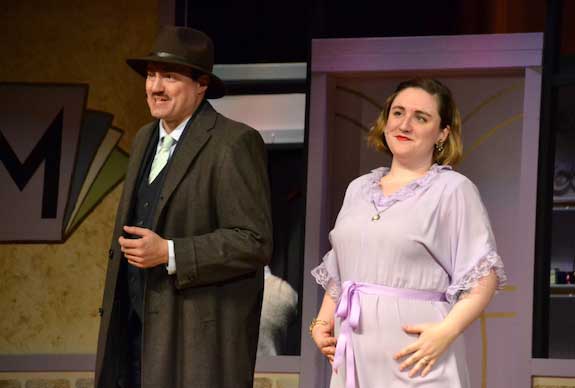 Joe Kusmierczak, a former Medina resident who lives in Chili, plays Steven Kodaly, a villain in the show. He is having an affair with Ilona Ritter.
Kusmierczak works as a seventh grade science teacher in Le Roy. He has been performing with the LPP for several years. The Players have been putting on musicals for about four decades.
"This is the group I grew up watching," Kusmierczak, 41, said during rehearsal on Wednesday night. "They have a reputation for putting on quality shows. They are really wonderful generous people."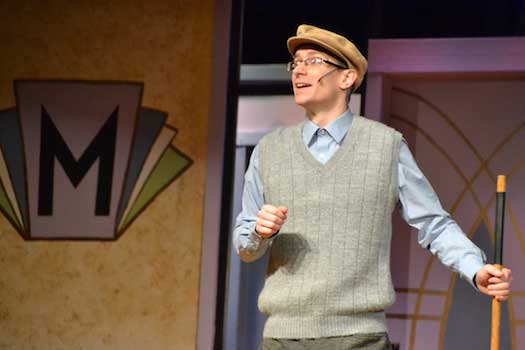 Michael Flanagan of Lyndonville portrays Arpad Laszio, a delivery boy for the perfume store.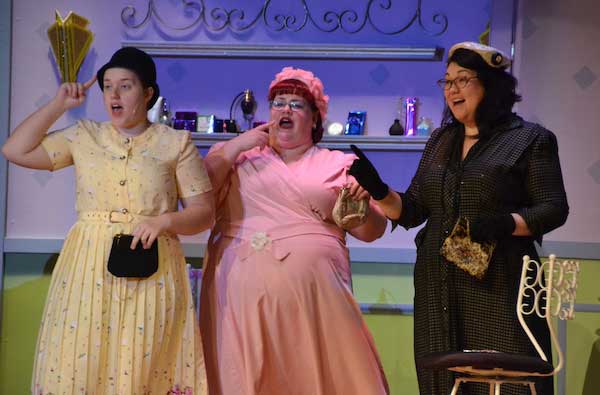 These customers of the perfume store include, from left, Paige Huth, Theresa M. Jones and Jennifer Neroni-Trupo.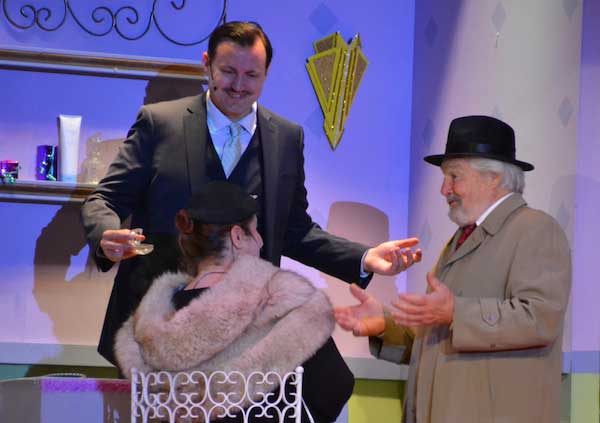 Ted Anderson, right, is part of the ensemble. Anderson, formerly of Albion, has been performing in the Lake Plains Players shows for about 40 years. He currently lives in Batavia after being an Albion resident for 70 years. Anderson, 77, is a retired science teacher from Pembroke. Two years ago he retired as a science educator at Buffalo State College.
He enjoys being a part of theater. He has been on the stage in Middleport since 1975, when the Middleport Rotary was doing shows. The Lake Plains Players formed after the Middleport Rotary ceased with its musical productions.
"It's a challenge," Anderson said. "You're working with a bunch of people on a common goal. There is no business like show business that I know of."
The shows are 7:30 p.m. Friday and Saturday, and 2 p.m. on Sunday. Click here for information on tickets.