Knowlesville pumpkin patch, nearing 50th season, makes changes during Covid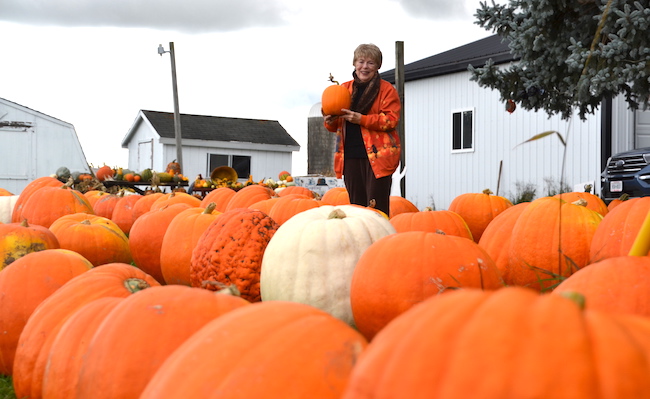 Photos by Tom Rivers
KNOWLESVILLE – Mary Lee Knights stands with some of the bigger pumpkins for sale at Knights Giant Pumpkins on Knowlesville Road. Some of the big ones are about 80 pounds.
Knights and her husband Ken started selling pumpkins 48 years ago from their home. Initially they sold eight that Mrs. Knights decorated with hair.
"It was a joke," she said.
But the pumpkins sold fast.
The following year, Mr. Knights planted an acre of pumpkins. They have been hot sellers every fall since then.
The pumpkin sales helped their three kids pay for college.
The Knights family needed to modify this year's setup due to Covid-19 guidelines from the state. They still have a corn maze and many "goofy" gourds, but there is no petting zoo, bounce house, wagon rides or bake sale and gift shop.
Knights said she continues to look forward each year to the pumpkin season. Many of the customers have been coming back for years – even decades.
Knights Giant Pumpkins is open seven days a week from 10 a.m. to 6 p.m. at 3246 Knowlesville Rd. Customers are urged to wear masks.