Knights of Columbus donates $1,200 to Community Kitchen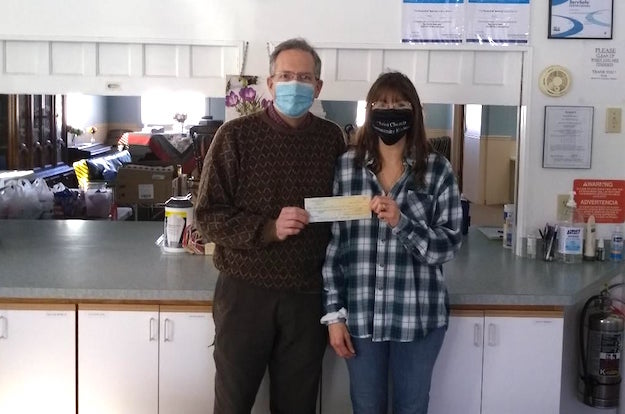 Provided photo
ALBION – Greg Dugan, grand knight for the Knights of Columbus in Albion, presents a $1,200 check to Faith Smith for the Community Kitchen at Christ Church in Albion. Smith is the director of the kitchen at 26 South Main St. It is open Fridays from 4:30 to 6 p.m. and currently serves to-go meals and extra bags of food, personal care products and laundry care items.
The Knights raised the funds through a chicken and biscuits dinner on Jan. 16, a first-time fundraiser for the Knights to assist the Community Kitchen.
"A chicken and biscuits dinner was something no one had done recently," Smith said.
Guy Warren from Kent was the chef and prepared the dinner.
The Knights also do a food collection every year. This year they collected 1,160 pounds of food and $575 for the kitchen.
"The Knights of Columbus Albion Council #1330 has always been a major supporter of the Community Kitchen since I have been the director," Smith said. "The Community Kitchen is so thankful for their continued help and support!"