KeyBank employees worked on many community projects last week, including at Hospice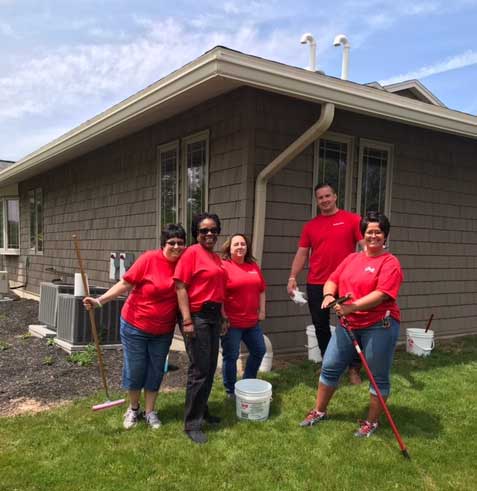 Provided photo
ALBION – KeyBank employees volunteered at about 30 sites in Rochester region on Wednesday, including Hospice of Orleans. This photo shows, from left: Amy Jewell, Brenda Gabrielson, Nancy McPhee, Steven Dutcher and Jodi Zeppetella.
The bank sent its employees into the community for service projects for its 27th annual Neighbors Make the Difference Day. There were about 7,000 bank employees receiving paid time off to volunteer in the neighborhoods where they live and work.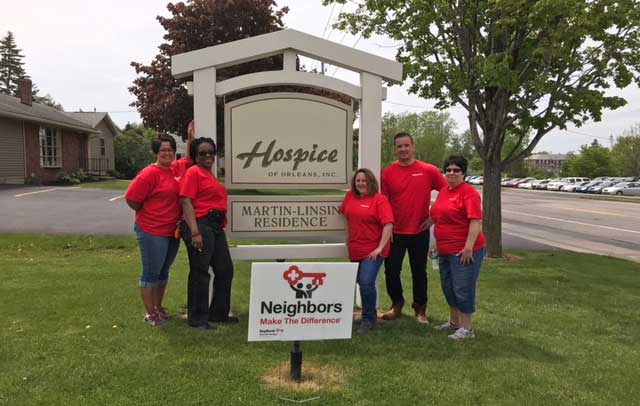 Jodi Zeppetella, Brenda Gabrielson, Nancy McPhee, Steven Dutcher and Amy Jewell are pictured in front of the sign for Hospice of Orleans.
KeyBank also had employees working on projects in the Rochester region at The American Legion, Batavia VA Medical Center, Canandaigua VA Medical Center, Charlotte Genesee Lighthouse, Episcopal SeniorLife Communities, Fairport Baptist Homes, Foodlink, Inc., Heritage Christian Services, Humane Society of Wayne County, Lifetime Assistance, Livingston County Center,  Northfield Family Service, Ronald McDonald House Charities, Veterans Outreach Center, Wayne County Rural Ministry, Wyoming County SPCA and other locations.
Many of the bank's branches closed at noon on May 24 to accommodate employee volunteers.
"KeyBank is focused on supporting neighborhood prosperity throughout the Greater Rochester region," said James Barger, Rochester Market President. "Neighbors Make the Difference Day allows our employees the opportunity to volunteer their time with organizations and projects that help stabilize our neighborhoods and support our community."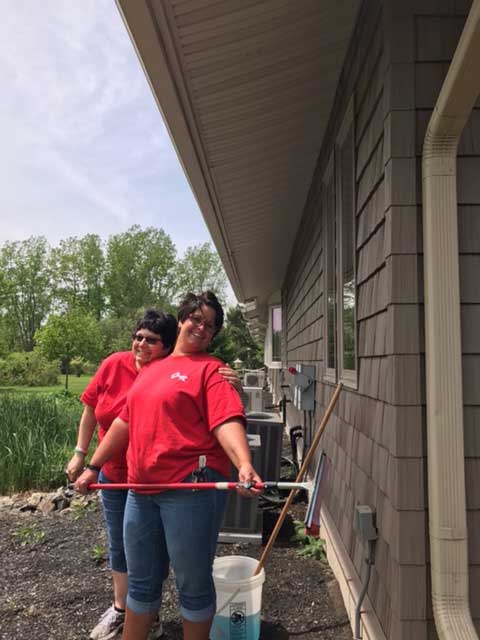 Amy Jewell and Jodi Zeppetella wash windows at the Martin-Linsin Residence for Hospice of Orleans.