Kendall's Barn Quilt Trail includes 40 designs of local pride
"Illuminating Orleans" – Vol. 1, No. 24
By Catherine Cooper, Orleans County Historian
KENDALL – Colorful quilt patterns have adorned barns in the Kendall area since 2006 when quilting enthusiast, Lora Partyka, first suggested the idea of a local quilt trail which generated a great deal of local enthusiasm.
Soon the 4'x 4' hand-painted squares which depict designs that signify the property or the owner's interests were to be seen on many barns and the initiative was the focus of tourist interest.
• The Farmer's Daughter quilt pattern is on Countyline Road at Partyka Farms. Lora's design was the first to be displayed. Lora is a fifth generation farmer's daughter on her father's side.
• Railroad Crossing on Kendall Road was selected by Jeanette and Bill Behnke. Bill was a conductor for the Kodak Industrial rail system. This design also reflects local railroad history. The property is close to the old Hojack Line which was instrumental in the development of Kendall as a shipping center for the abundance of locally grown farm produce.
Train service began in 1876. Several industries developed around the railroad station: grain storage, cold storage, dry-houses, coal-yards. As transportation methods changed, the Hojack Line became defunct in the 1970s, having served the area for one hundred years. Two buildings which used to be on the railroad property, a small shed and a red octagonal building, were relocated beside the Behnke barn.
• Twisting Star is on Bropst farm on Peter Smith Road features this dramatic design selected as it was a personal favorite and reflects the constancy of the beauty of the area as well as the changes caused by time and climate
These are but a few of the over 40 barn quilts in Orleans County. As we are celebrating Heritage Season, a leisurely country quilt-spotting drive might be in order.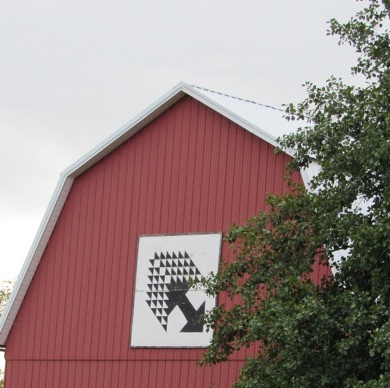 Can you find this barn?