Kendall students help celebrate 'World No Tobacco Day'
Press Release, Reality Check
KENDALL – Last week on May 31 we celebrated World No Tobacco Day (WNTD) as a way to raise awareness and envision a life without tobacco. While the general public understands the threat tobacco imposes on individuals, the World Health Association (WHO) focused on tobacco as a threat to development around the globe.
A Reality Check group from Kendall Central School participated in an all-day event to protect health and promote development in the community.
The outreach event, which involved both the school and community audiences, was designed to visually grasp the volume of people affected by secondhand smoke in an extreme way. Cigarette smoke is responsible for 480,000 deaths per year in the United States, more than 41,000 deaths of which come from secondhand smoke exposure. That's about one in five deaths annually or 1,300 deaths every day. The Reality Check group decided to use 1,300 pinwheels to represent the 1,300 innocent individuals who suffer due to tobacco's role in society and the environment.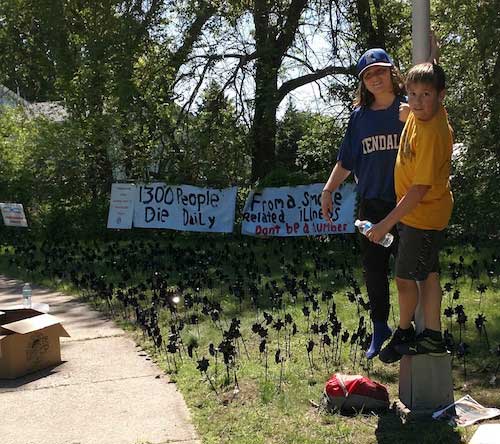 Shelby Kurger, a student involved with the Kendall Reality Check group, felt strongly about WNTD. "I'm a part of Reality Check to make sure we can be the first tobacco-free generation. For every one person that quits or dies from smoking, two youth become a replacement. Don't be a number."
To reinforce that messaging, the youth built a WNTD sign with their pinwheel display. Instead of viewing the 1,300 as a statistic and feeling desensitized about the deaths occurring, they wanted to put into perspective what an impact tobacco has in the United States alone on a daily basis.
Just a few days before the Kendall event, on May 26, the Reality Check group from Holley School sponsored a cigarette butt pick up and scan in Holley Village Park. According to WHO, up to 10 billion cigarettes are disposed of in the environment every day. Since tobacco waste contains over 7,000 toxic chemicals, the environmental influence alone is astounding and part of the development issue that WHO based their WNTD theme on.
Reality Check and students from St. Joe's School in Batavia were also involved in a Chalk the Walk program, utilizing parking lots and church walkways. They also put up signage outside of school. Reality Check is a teen-led, adult run program that seeks to prevent and decrease tobacco use around New York State.
For more information about Reality Check, click here.