Kendall students compete in Legion's oratorical contest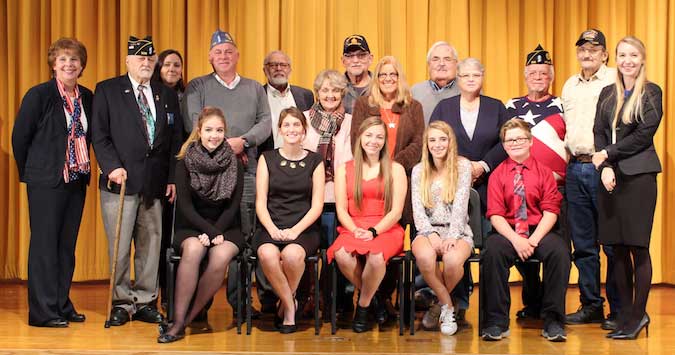 Photo courtesy of Kendall Central School
KENDALL – Five students competed in the American Legion's Oratorical Conetst at the school on Wednesday. The students who competed include, seated, from left: Victoria Weed, Olivia Reed, Lizzie Sutphen, Hailee Mitchell and Noah Rath.
They are pictured with local veterans and supporters, as well as Kendall High School Principal Carol D'Agostino (left) and Katie Driesel, AP US history teacher, right. Some of the others in the photo include Charles Eberhardt, Robert Miller, John Kenney, Urb Bennett, Sharon Bennett, John Heise, Donna McGee, Alfred Pulcino III and John Pera.
Noah Rath won first place with Olivia Reed in 2nd place, and Hailee Mitchell in 3rd place. They will advance to the county competition next month in Medina.
The students need to give an 8-10 minute prepared speech on the U.S. Constitution and citizen duties and obligations to the government.