Kendall student gives winning speech about keeping politics out of football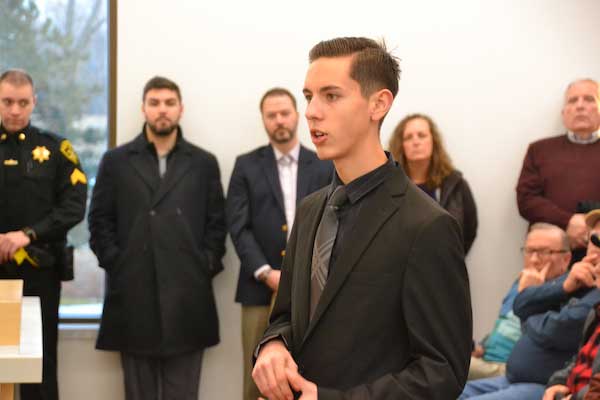 Photos by Tom Rivers
ALBION – Ethan Kuhn of Kendall, winner of the 83rd annual oratorical contest through the American Legion in Orleans County, delivers a 10-minute speech on Monday before the Orleans County Legislature and a crowd of about 75 people in the legislative chambers of the County Administration Building.
Kuhn won the contest with a speech, "Keep Politics Out of Football." He was critical of Colin Kaepernick and other NFL players who chose to kneel during the national anthem as a protest against what they said is racial injustice.
Kuhn said "taking a knee" was a disrespectful approach by the NFL players. He said they could have pushed their cause through social media without offending so many in the country.
Lauren Miller of Kendall was second in the county contest. She and Kuhn both advanced to the District level contest on Sunday in Kenmore.
Kuhn runs cross country and track at Kendall, and is working to become an Eagle Scout.