Kendall Scouts thank bricklayers union for help with war memorial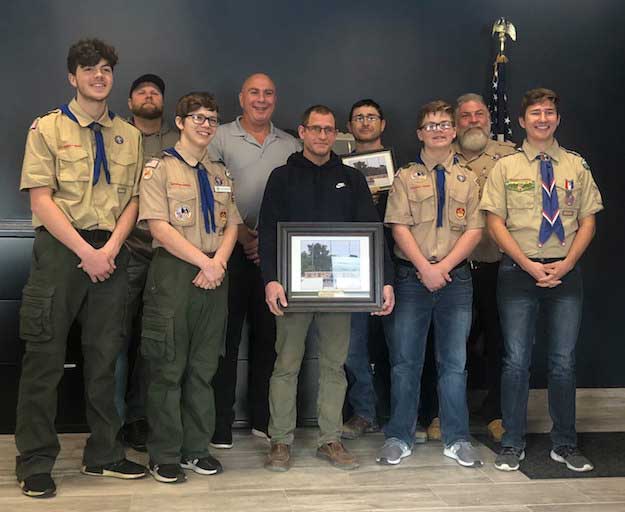 Provided photos
KENDALL – The four Boy Scouts from Kendall who led the effort to build a war memorial in the community on Monday thanked a bricklayers union for its help with the project.
Jason ReQua of Kendall is secretary-treasurer with the union, BAC #3, in Rochester. He helped build the 39-foot-long brick wall. Other union members who helped and provided guidance with the project include organizer Robert Sotir, JATC Coordinator Arthur Miller and previous Local 3 President Anthony DiPerna.
Pictured include front row, from left: Brian Shaw, Jayden Pieniaszek, Secretary/Treasurer Jason ReQua, Noah Rath and Ryan Barrett. Back row: JATC Coordinator Art Miller, President-Rick Williamson, organizer Robert Sotir and Kendall Troop 94 Scoutmaster Ken Spohr.
The wall features granite plaques highlighting the American Revolution, the Civil War, World War I, World War II, the Korean War, Vietnam War, the Persian Gulf War, and the War on Terror. Alternating the granite plaques are concrete medallions representing five branches of the military. In addition, there are three flagpoles that stand tall behind the brick wall. The memorial is respectfully lit from dusk to dawn.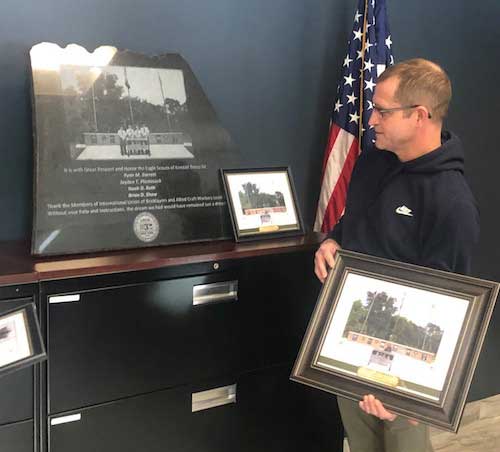 The Eagle Scouts presented BAC Local #3 with a granite plaque as a thank you for contributing to the community service project.
Founded in 1865, the International Union of Bricklayers and Allied Craftworkers represents craftworkers in the trowel trades across the United States and Canada including bricklayers, stone and marble masons, cement masons, plasterers, tilesetters, terrazzo and mosaic workers, and pointers/cleaners/caulkers.