Kendall Scouts getting close to completing war memorial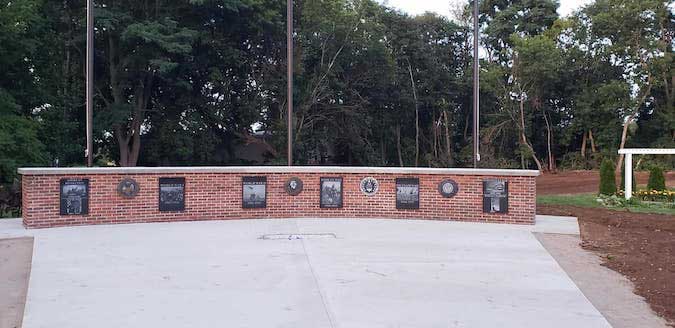 Provided photos
KENDALL – The 36-foot-long brick wall for the Kendall War Memorial is done, and three flag poles are up. The wall includes granite rectangles that highlight wars including the American Revolution, the Civil War, World War 1, World War II, the Korean War, Vietnam War, Persian Gulf War and the War on Terror.
There also are concrete medallions on the wall for the five branches of military service.
The project is a joint effort by four Boy Scouts each working to become an Eagle Scout.
Ryan Barrett, Noah Rath, Jayden Pieniaszek and Brian Shaw have joined forces in the project.
Ryan led the first phase, which is complete and includes putting in the foundation for the wall, a stone memorial and three flag poles. Two of the poles are 30 feet high and one for the American flag is 35 feet. Barrett will be the first to receive his Eagle. His Court of Honor ceremony is Aug. 19.
Jayden Pieniaszek is leading the second phase which includes construction of the brick wall, which is 36 feet long, 3 ½ feet wide and 4 feet tall.
Noah Rath is heading up phase three which includes the medallions for each five branches of military. Rath will also lead the efforts to get the electricity set up so the memorial and sidewalk can be lighted up at night.
Brian Shaw is coordinating phase four which includes final grading and planting of cedar trees behind the memorial, which will provide a buffer for the neighbors and also enhance the site. Shaw also led the work to for the plaques on the memorial for the different wars where Kendall soldiers served.
Th Scouts have sold 120 memorial bricks which will go by the edge of the walkway for the memorial. Thy would like to sell 60 more bricks, which are $100 each, said Ken Spohr, the Scoutmaster. Click here to see the Facebook page for the memorial where there is a form about ordering a brick.
Most of the project is complete, Spohr said, with lighting and landscaping to done.
"To see where it is now is truly amazing," Spohr said. "I can't tell you how proud I am of what they've done."
Spohr praised the Scouts for working on the project this summer, while all have been juggling jobs.