Kendall Scouts fill 30 goodie bags for local veterans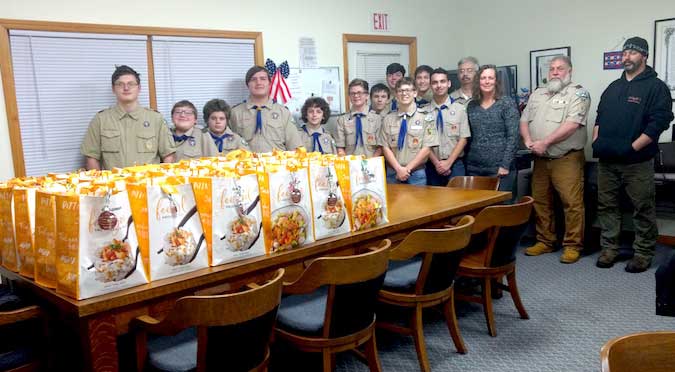 Provided photo
ALBION – Boy Scouts in Kendall Troop 94 made 30 large goodie bags for Orleans County veterans, and delivered them on Tuesday to the Veterans Service Agency to be distributed to local veterans. The Scouts and their adult leaders are pictured with Nancy Traxler, director of the Orleans County Veterans Services Agency.
This is the second straight year the scouts passed up exchanging Christmas gifts and instead used the money they would have spent on gifts to make these goodie bags. Scouts and their families each donated an item to include in the goodie bag as well as homemade cookies.
There were about two dozen Christmas cookies in each bag along with water bottles, gloves, socks, hand warmers, hand cream, soap, toothbrushes and toothpaste, along with a handmade ornament depicting the Kendall War Memorial.
Each goodie bag also had a thank you note and a Christmas card signed by each scout.